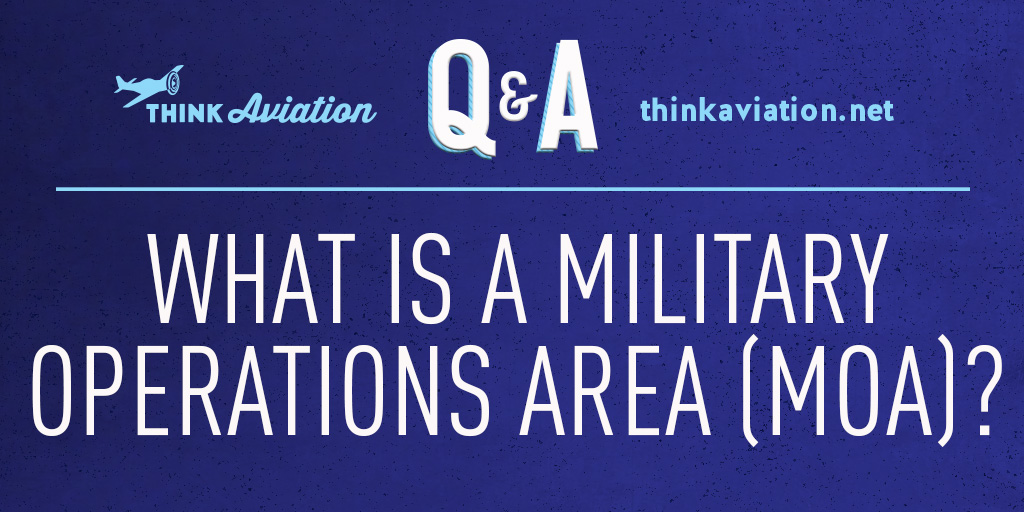 Military Operations Areas are one of the six special use airspaces. The special use airspaces are listed below:
Click on the blue articles to read more. For now, let's talk Military Operations Areas (MOAs).
Contrary to popular belief, MOAs exist to separate nonparticipating IFR traffic from military flight activities. Of course, they are also there to help VFR pilots, but that's not their primary goal.
VFR pilots do need to exercise "extreme caution while flying within a MOA when military activity is being conducted." (AIM 3-4-5).
Unlike Restricted, Prohibited Areas or TFRs, MOAs do not prohibit the operation of general aviation aircraft.
You can, if you want to, fly through a MOA even when it's "active."
Most of the time you will want to fly through them. It is often a serious pain to fly around a MOA. Look at these in California.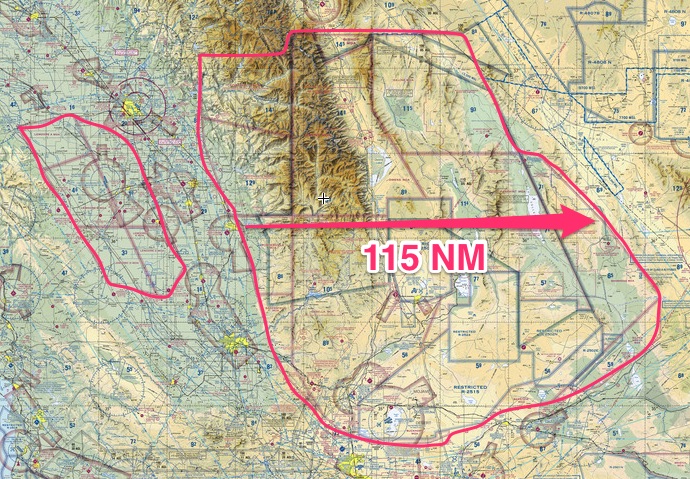 There is an inherent danger to operating in a MOA, though. You should not take the decision lightly evn though there is nothing stopping you from doing so.
You can legally fly through them without talking to a soul even if they are active, but honestly, that's being stupid.
Do your research and figure out if they are active. If they are active, call the controlling agency as you get close to the MOA and let them know your intention. They won't bite. I swear.
Here are three questions you need to answer when you need to traverse an active or inactive MOA:
First, when are they open?
Chances are really good if you are flying on a Saturday the MOAs are closed. The military doesn't like to work on Saturdays.
Start with this website:
For more specific information you can do several more things:
Call 1-800-WX-Brief (make sure you have the MOA name and location before you ask)
Call Center when you get up in the air and ask for updates (if Center isn't too busy)
Call the controlling agency (which is probably Center)
Look at the VFR Sectional. Times are posted on the edge of VFR sectionals. For Foreflight users, you can click on the MOAs and it will give you the times and info.

If you do look at the times on the sectional, just know it isn't the most accurate information. The FSS will have the BEST information for your particular time and date.
The VFR sectional may say Monday through Friday, but it might not be active on a Wednesday that week. Make the call or check out the FAA's website.
Here is an example of a MOA in Oregon with the times found on Foreflight.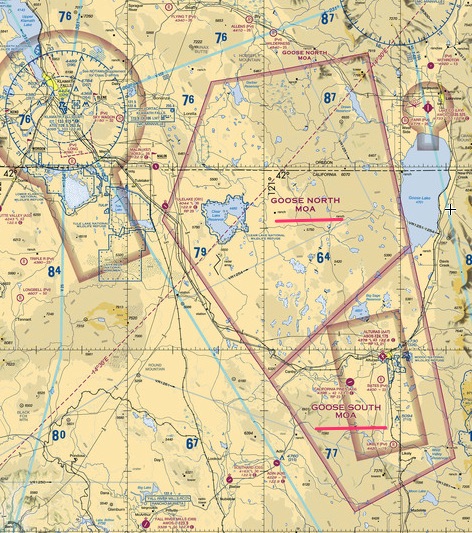 So, if you look at this MOA used by F-15s in Southern Oregon, you will see you have nothing to worry about on the weekends. You still need to check the NOTAMs because there might be some big training event on a weekend, though.
Check out this MOA in California.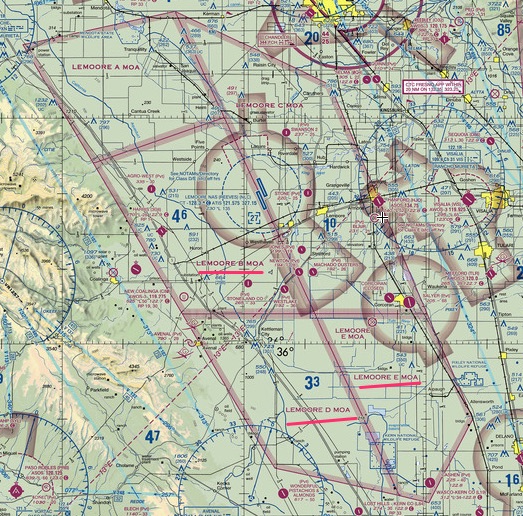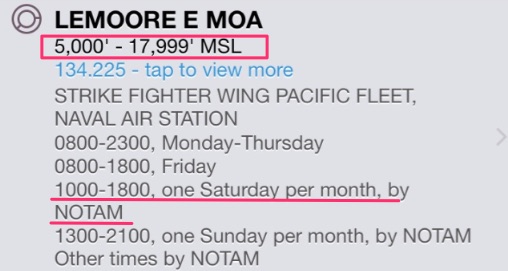 The times are already posted and you can work around them. Again, always check the NOTAMs.
It's worth a little research. Are you really going to fly around the Lemoore MOA? What a trip!
If you are flying on a federal holiday it's highly unlikely anyone is flying at all. Most military units will give their people the federal holiday off and several days off surrounding it. So, if President's day falls on a Monday, it's likely no one is flying on a Friday either.
I know MOAs add an extra step in the planning process, but don't be intimidated by these MOAs. A lot of time no one is training and you can cruise through them without a problem.
Don't consider them off-limits or you will drive yourself crazy.
Second, what altitudes to they apply to?
Besides the times, this is the best way to mitigate the risk of MOAs. Most of the time the altitudes are completely reasonable and allow for VFR traffic to go below, and IFR traffic to go above.
Check out these examples: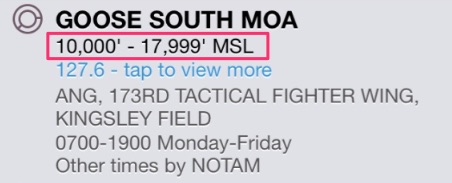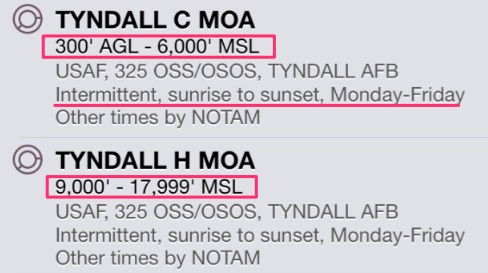 As you can see, it pays to check out the altitude. The only one that will cause a problem is the 300′ AGL Tyndall C MOA. But, you can easily fly around it, and if you're careful you can still fly through it.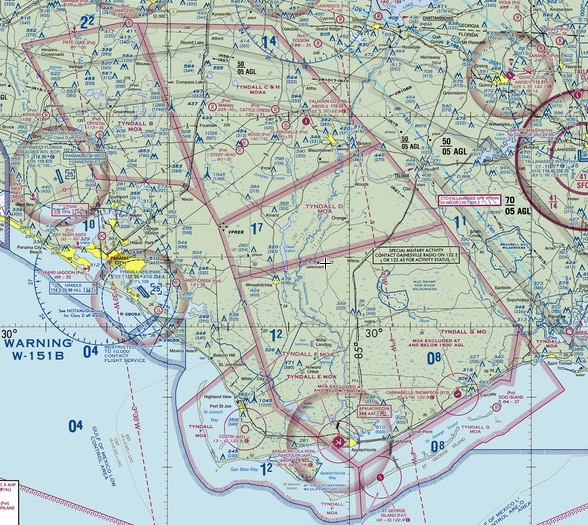 Third, who do you need to talk to when you fly through it?
Actually, technically no one.
That's right, you can blow through a MOA without talking to anyone whether it's "active" or not.
If they are open, though you will want to talk to the controlling agency. You will want traffic updates.
As a military pilot, I can tell you this is EXTREMELY helpful when GA pilots talk to the controlling agency or at a minimum they monitor the frequency.
You can get the frequencies three ways:
Printed VFR sectionals will have the frequencies published with the hours of operation.
Foreflight (I love Foreflight!)
Call the FSS closest to the MOA and ask them what frequency you should call. It is most likely going to be "Center" who you call. FSS will know which Center frequency is best as there may be several listed (see below).
Check out the frequencies for the Goose South MOA in southern Oregon.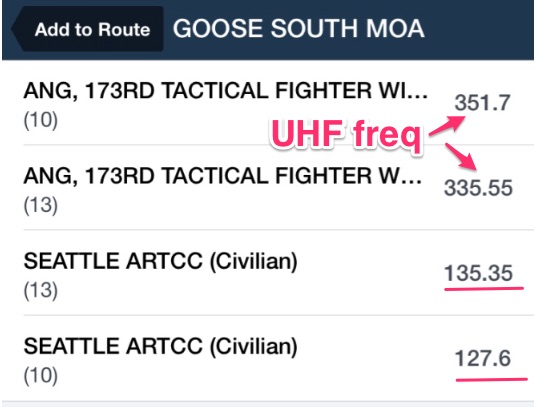 Chances are you don't have a UHF radio unless you are in the military. That leaves you with two VHF options.
I hope that helped you work through MOAs.
Additional reading:
Teaching MOAs and Restricted Areas
Military Operations Areas: What You Need to Know
Do you want weekly tips and resources?
Subscribe to keep learning.