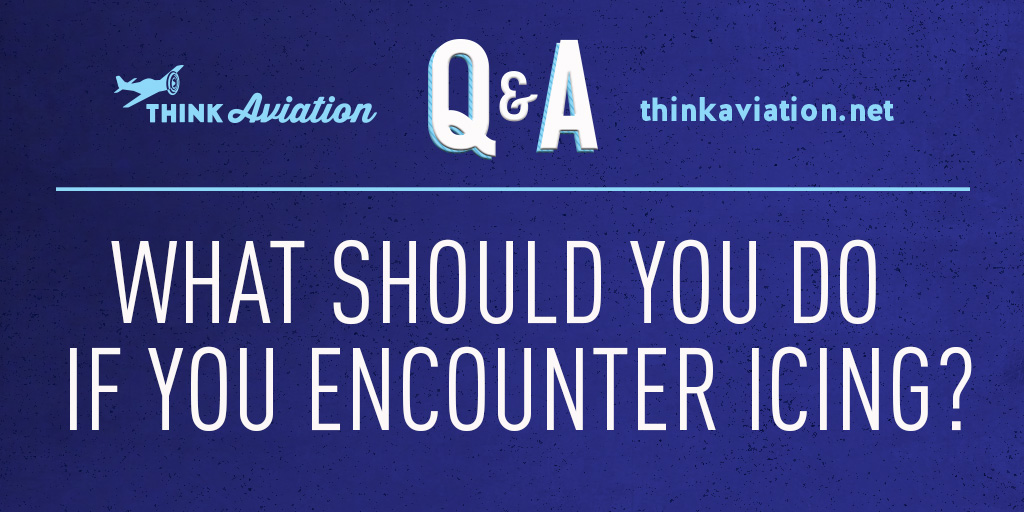 Most small general aviation airplanes don't have de-ice equipment. Or in other words, equipment that will remove ice once it has formed on the wing.
GA planes will have anti-ice capability, but it can get overwhelmed in icing conditions. You should know if your plane is rated by the FAA to fly into icing.
If it isn't, icing can become a significant event. Don't take icing lightly, and do not delay taking action.
What to do if you encounter icing conditions:
You should immediately seek to exit the icing conditions. Change course and/or altitude.
Note: "Down" isn't always the best option. Seriously consider climbing. Check out this excerpt from the FAA's Aviation Weather Chapter 10:

Usually, several thousand feet of altitude will do the trick.
Never just ask for 1000 feet. I have found 1000 feet isn't usually enough. Go big! Climb at least 2,000 or more if you can.
Climb quickly, though. You don't want to spend any more time in icing than you can.
Also, avoid turning 180 degrees. You do NOT want to turn back into icing!
The only exception is if you flew into a very distinct rain cloud and you knew a 180-degree turn would put you back into sunny skies. If that's your choice, then do it quickly!
Land at an airspeed about 15 kts higher than normal. But 5-10 kts might be more appropriate.
Note: Even the pros land at a higher airspeed when the wings aren't completely clean. A couple of miles from the airport at about 500′ the Captain and I will always take a peek at the wings. If they aren't clear, we increase our airspeed.
You will usually know well before 500′ if the wings are going to clear up. Take a look at the temperature gauge. If it isn't budging from 0-5 degrees, that ice probably isn't going anywhere.
Consider landing without flaps. Flaps will accumulate ice and may induce a tail stall.
Don't take off if the possibility of icing exists: An ounce of prevention is worth a pound of cure.
If you are a VFR pilot flying into icing, you may not have done the best pre-flight planning.
Icing can occur in visible moisture at 5 degrees and below.
That's right! 5 degrees is well above freezing. Just because your OAT gauge doesn't read zero, doesn't mean you can't get icing. In fact, once you hit 5 degrees and below and you see moisture, you should start checking for ice.
I like to look at the edges of the windshield for the first signs of ice. If there is ice on the windshield, you have ice on the wings and tail.
Take a close look at temperatures and cloud heights when planning. Remember a good rule of thumb is the temp will decrease at 2 degrees per 1000 feet.
This rule of thumb won't necessarily apply when you are at the leading edge of a warm or cold front. Check out this picture from the FAA's AC-006A (Aviation Weather):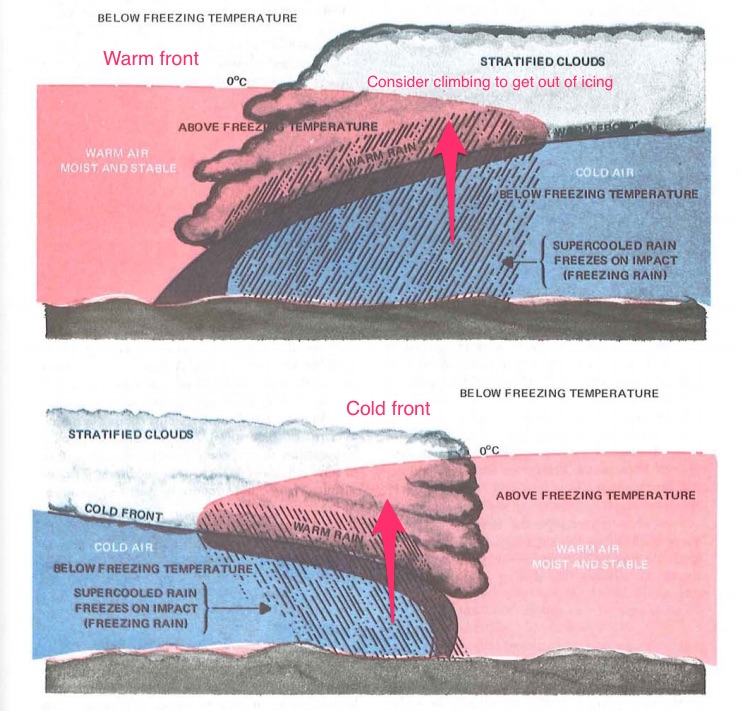 Remember, icing isn't just for winter either.
I hope this helps. Getting out of icing is a priority for VFR pilots. Don't freak out, but do NOT delay taking action.
Make a decision and go with it.
Additional Reading
FAA's Advisory Circular on Icing
AOPA's Safety Advisor: Aircraft Icing
Do you want weekly tips and resources?
Subscribe to keep learning.