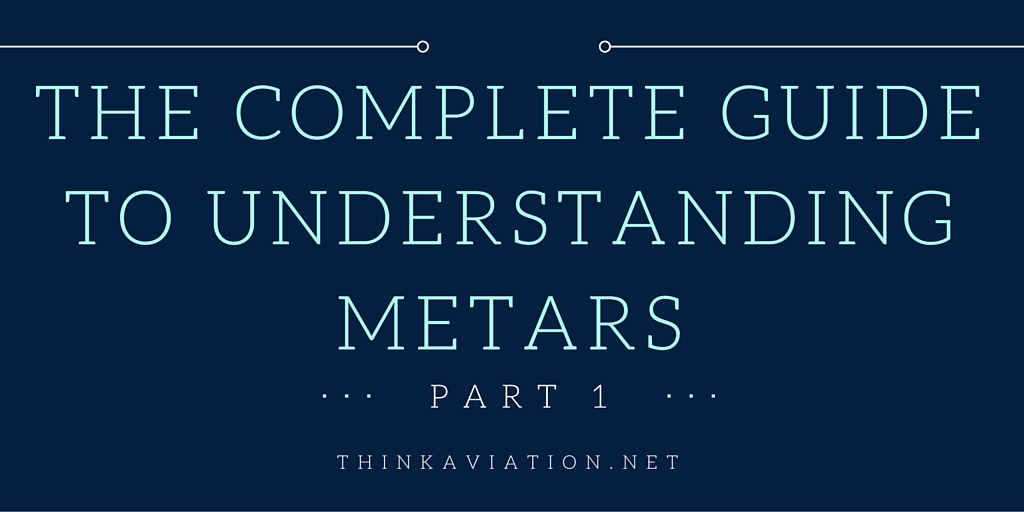 Getting METARs are a must for every flight, but for something so vital they are so difficult to decipher! Even programs like Foreflight don't completely translate all of the METAR. They typically leave off the remarks (RMK) section leaving pilots to wonder what the rest of the METAR means.
This article should take some of the mystery out of METARs even for experienced pilots.
I am going to break down Aviation Routine Weather Reports (METARs) into two articles, Part 1 and Part 2. This first article will cover the main part of METARs or what I call the "easy" part. The second article will cover the "remarks" section of METARs which I call the "hard" part.
By the end you should be an expert in deciphering METARs. Just kidding, you won't be an expert by the end of the article, but you will know more than when you started.
Before we get started, I just want to point out, you should ALWAYS get weather before you fly. I don't care if you are staying in the traffic pattern on a clear blue and 22-day.
Aviation is about forming habits. Getting weather is the #1 aviation habit you need.
All right, enough of that. Let's get started.
Where to get METARs and TAFs
There are two primary places to get METARs and TAFs: NOAA's aviation weather site or an aviation app on your smart device.
I personally use Foreflight. It is hands down the most advanced aviation and weather flight planning tool out there. But if you don't want to spend $99 a year then check out this article on the Top 8 Weather Apps for Pilots.
For those of you who want free, here is a screen shot from the Aviation Digital Data Service (ADDS) website. Don't bother with DUATs, stick to this website.

You can click on either METARs or TAFs. It doesn't matter which since both tabs will let you select both METARs and TAFs. Enter in the airport identifier of the airport(s) you need. You can enter multiple airports at once.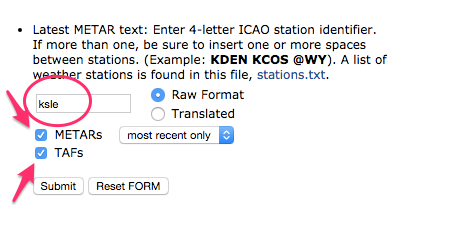 I suggest you always choose both METARs and TAFs. The METAR only gives you a small snapshot in time. They are only good for an hour. They are usually refreshed around 55 past the hour.
TAFs, on the other hand, cover a 24 to 30 hour period and they are published 6 times a day (0000, 0600, 1200, 1800).
ADDS lets you print out the METARs and TAFs. I suggest you print them and take them with you in the plane. I also suggest you print the airport diagram even if you have Foreflight.
How do you read/decode METARs?
Getting the METAR is the easy part! Decoding and understanding METARs is another matter entirely.
Here is an example METAR and TAF from Salem, OR (KSLE). The top line is the METAR and the bottom six lines are the TAFs. As you can see it's not such a great day today!

I like to break down METARs into two parts.

Part 1 of this article will cover "the easy part." Part 2 of this article will cover "the hard part."
The Easy Part
Airport Identifier
The easy part is straight forward. It always starts with the airport identifier. Make sure you dodn't type in the wrong airport.

Time Group
Next comes the date/time group. It is always in UTC time. If you need to translate UTC time to your current local time bookmark this website: UTC time

The first two numbers are the day. In this example it is the 17th. They assume you know what month you are in. So, you will never see the month. The next four numbers indicate the time. It is 2056Z.
The "Z" is for "ZULU" time. Zulu time is another way of saying Universal Coordinated Time (UTC) or Greenwhich Mean Time (GMT). They are all the same thing.
Winds
Next are the winds:

The first three numbers "180" are the direction the winds are coming from. In this example they are coming from the south or from 180 degrees. If you don't see any numbers it means the winds are calm. Portland's current METAR says "00000KT."
The next two numbers indicate the strength of the winds. They are 14 knots in the example above.
The "G" stands for gusts. The winds are gusting up to 21 knots in this example.
Often times you will hear aviators talk about the "gust spread." To get the gust spread subtract the sustained winds (14kts) from the max reported gust number (21kts).
21-14=7 knots
The gust spread is an important number to know because it can be an indication of wind shear. In this case the gust spread is only 7 knots. Not too bad, but still something you need to pay attention to.
If you don't see a "G" then there aren't any gusty winds. That's a good thing. If you fly small airplanes, gusty winds should make you stop and thing a little bit.
At my regional airline anytime the gust spread is more than 10 knots, we take precautions for wind shear. We adjust our procedures and keep the Bleed Air off on landing and takeoff to give us more power should we need to execute a missed approach.
The "KT" stands for "knots." Its just a friendly reminder that winds are always reported in knots. You will never see the winds reported in miles per hour.  Get used to thinking in knots.
TEACHING TANGENT: Sometimes wind direction can be confusing for new aviators. Just think of it like this: when the winds are "180," if you stood looking south you would get a face full of wind.
Winds aloft and surface wind depictions are also a bit confusing. Here is a pic of winds aloft. It may seem like the winds are coming from the East. For some reason I think of the barbs as wind socks, but they aren't. They show where the winds are coming from just like the METAR. You would have a hell of a head wind flying west in this example.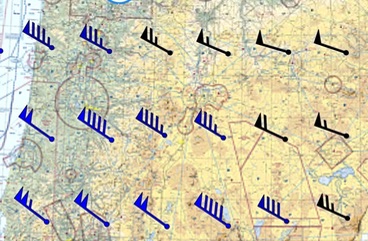 To prove it here is a screen shot of Foreflight's winds aloft in text (yet another reason I love Foreflight). The picture above shows winds aloft at 21,000 feet. The barbs show winds are out of the northwest which is confirmed when you look below and see the winds are 292 degrees at 21,000 feet.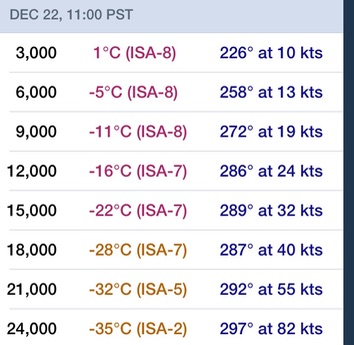 Visibility
After the winds comes the visibility.

They are 10 statute miles in this example. You will never see this number reported in nautical miles. You will also never see the visibility reported more than ten statute miles. You may see "9999" which indicates visibility is so awesome it deserves a bunch of 9s.
Also, anytime this number drops below three statute miles, the airport is operating under IFR conditions. The rotating beacon will come on during the day.
Here is an example of the visibility falling below three statue miles:

At some automated stations you may see an "M" before the visibility. This indicates the visibility is "less than" whatever number is given. So, if you see a "M1/4SM" it means the visibility is less than 1/4 statute miles. M=minus or less than
You may also see a "P" before the number. Today in Portland, the TAF says "P6SM." This means the visibility is forecast to be more than 6 statue miles. P=more than
At larger airports you will also see RVR values in the METAR. Here are some ways you will see RVR values reported:

Weather Condition
Next you will see the description of the weather. I pulled this chart from Wikipedia. You should know most of these by heart especially "RA" for rain and "BR" for Mist, "FG" for fog, and "SN" for snow.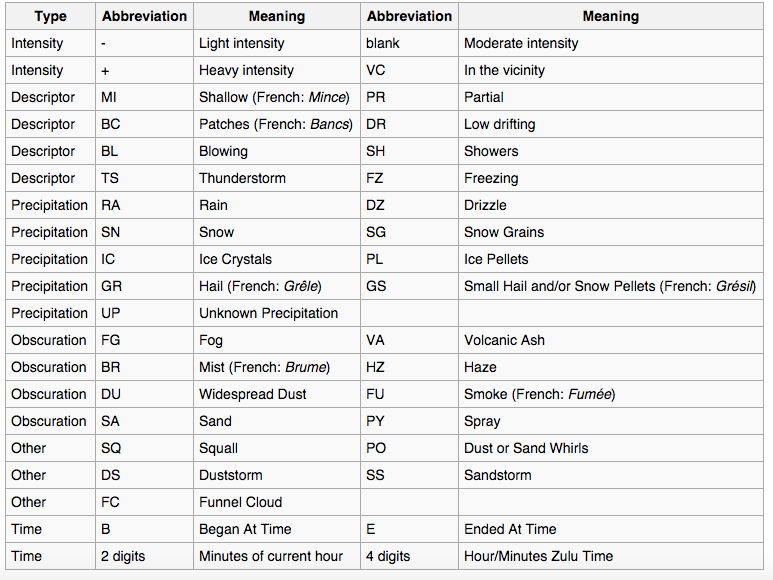 "VC" or "in the vicinity" means within 5 to 10 statue miles from the point of observation. The "VC" is always combined with another abbreviation like showers (SH), or thunderstorms (TS). So you will see it written like this: "VCTS," or "VCFG."
I have found the "-" number, which indicates "light," is often times misleading. Portland's METAR will say "-RA" even when it's pouring. So, be careful when you see the "-" and treat it with healthy skepticism.
The absence of a "-" or "+" means moderate intensity.
The "+" should certainly give you serious pause. It takes a lot to get a "+" on the METAR.
If you see "SQ," "FC," "IC," or "PL," you should almost certainly go home. Fly some other time.
Here are some other combinations you may see:

TEACHING TANGENT: You need to be worried when you see the "TS." You should immediately look for any active convective SIGMETs. For a more in depth article on AIRMETs and SIGMETs, click here.
Cloud Coverage
After the weather description comes the cloud coverage.

Remember "Scattered" and "Few" don't count as a ceiling. Only the "Broken" and "Overcast" layers are ceilings.
The numbers can be confusing so here is a trick: always add TWO zeros to the number. When you add two zeros to "OVC010" and you get overcast at 1,000 feet.
I really get concerned when I see "OVC001," or "BKN002." When you see those numbers it means the ceilings are 100 feet and 200 feet. If you see these numbers in the METAR, make sure you brief the missed approach procedure because you probably won't break out.
Here is a chart from the Aviation Weather Services AC 00-45g  (page 51) which explains sky cover contractions.

If you do see a "VV" on your METAR report its probably because you have fog or dust in the area. There aren't any clouds per se, but you won't be able to see crap. If you see "VV" seriously consider staying home.
Here are some more examples you will see: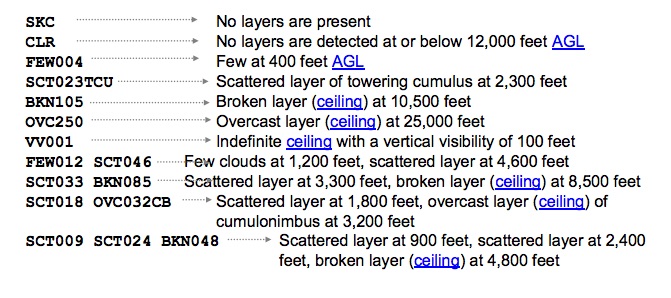 Sometimes you will see a cumulonimbus "CB," and towering cumulus "TCU," in the report. The number reported with it is the base of the cloud and not it's height.
TEACHING TANGENT:  For VFR pilots, anything less than 1,000 feet means you will need to get a Special VFR clearance from the tower (at controlled airports).
You also need to be careful at airports with surface Class E like this one in Oregon with no tower. Surface Class E airspace is considered controlled airspace so keeping "clear of clouds" won't work. With ceilings less than 1000 feet you have to talk to Center and get Special VFR permission to land at this airport.
Also, you can't do special VFR between sunset and sunrise unless you hold an instrument ticket.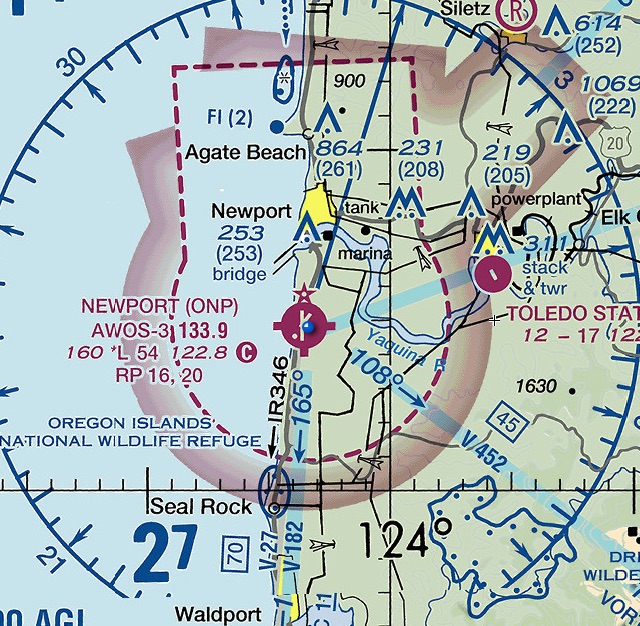 Temperature and dew point
The next part contains the temp and dew point.

These numbers are always reported in degrees Celsius. The first number is the current temp and the second number is the dew point.
An "M" before the number means it is a negative number or "minus." So, "M12" is minus 12 degrees Celsius. Cold!!
TEACHING TANGET: You need to seriously pay attention to these numbers when they are within two degrees of each other. With light winds and a low temperature spread you may see fog.
I have been fooled before by these numbers before. In the early morning they may be four degrees different which isn't a problem….yet. As the sun rises the temperature changes, a clear day can turn into a nightmare. The TAF should anticipate fog, but not always.
Remember, METARs are a static picture in time. They are usually published at 55 past the hour. You need to do some advanced decision making and think about what the temperature will do from the time you get weather to when you take off.
Altimeter setting
The final section of the easy part is the altimeter setting. The "A" stands for altimeter and the numbers following is the altimeter setting around 55 past the hour. 

TEACHING TANGENT: When you do your run up, dial in the current altimeter and compare what's in the window to the airport elevation. If your altimeter is more than 75 feet different than the official airport elevation, your altimeter is broken.
Also, if you happen to have two altimeters in your aircraft make sure they read within 100 feet of each other.
That wraps up the easy part of the METAR. You should have a much better understanding of them now.
I have purposely left out the Remarks section of the METAR report. I saved it for another article. It deserves its own section. Check out Part 2 of decoding METARs by clicking here.
Get Your Ultimate Guide!
Download your FREE guide. Plus get emails full of aviation tips and resources!!