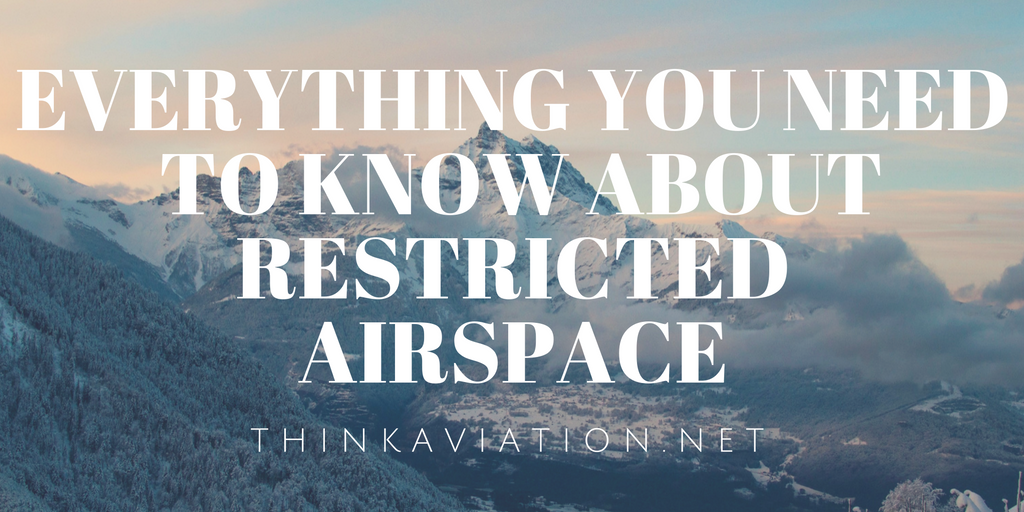 Restricted areas are one of the six special use airspaces. It, like prohibited areas, are regulatory. The special use airspaces are listed below:
Restricted areas (regulatory)
I covered all the special use airspace categories which you can access by clicking the blue links above.
For now, though, let's talk Restricted Areas.
The AIM defines restricted areas as: "Restricted areas contain airspace identified by an area on the surface of the earth within which the flight of aircraft, while not wholly prohibited, is subject to restrictions."
Okay, great, but what does that actually mean?
The restricted area exists to contain things which could cause great danger to non-participating aircraft. In short, they need to keep people out for their own safety.
In practical terms, this means you cannot fly through the dimensions of a restricted airspace without getting permission from the controlling agency (usually Center). If the airspace is "active," "open," or "hot" they will deny you permission, and you will have to go around.
You can legally fly through a restricted airspace when it is "cold," or "closed." I recommend you speak with the controlling agency prior to entering, though. You want to protect your pilot's license in case you read the altitude or times wrong.
Let's take a look at some examples.
The restricted airspace near Pendleton Oregon is a bombing range. The famed Area 51 is a restricted area (and a Prohibited Area), and of course, Washington DC is littered with them including Quantico, Virginia and the Surface Warfare Center.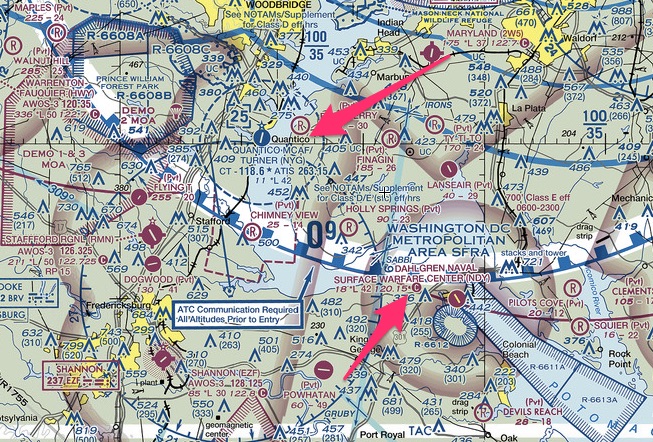 Almost every Army post will have one attached to it like this one at Fort Lewis, Washington. They use it for low-level helicopter flying, para drop operations and weapons ranges.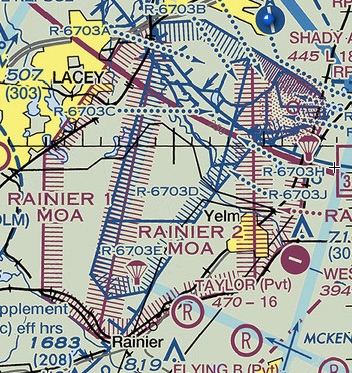 So now you know what they are, the more important question is: what do you do about them?
Specifically: How do you navigate restricted airspace?
The simple answer is: 90% of the time go around them. Period. Just get in the habit of avoiding them. Most of the time it's not worth doing the research to shave 15 min off your flight.
But, sometimes out west, it's more than a 15 min inconvenience. It's an hour of flight time! Look at this one in Nevada: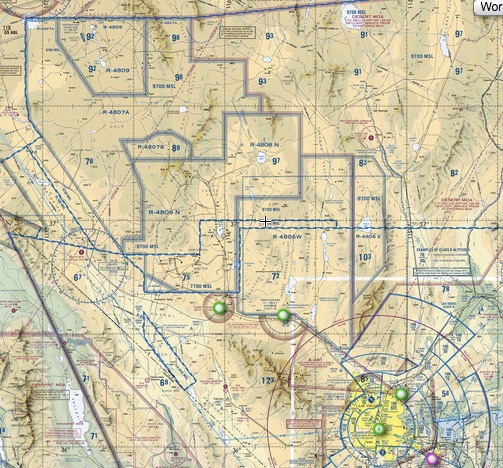 It's too big. You may need to fly through it.
Which means you need to do a little digging to answer four questions:
Are you on a VFR or IFR flight plan?

What are the altitude restrictions?

When is it open?

Who is the controlling agency?
First Question: Are you on a VFR or IFR flight plan?
The type of flight plan you are on will dictate the level of research you need to do. When I plan IFR flights (whether this is right or wrong) I plan the route right through restricted areas.
Why? Because the controller will route me around the airspace if it hasn't been released back to ATC. Sure, if the airspace is "hot" or open, I will get the dreaded: "prepare to copy," but it saves me having to do research when I am trying to get off the ground quickly.
For example, when we fly from Portland, OR to Spokane, WA we go right through the Yakima restricted area. When the range is active, ATC will amend our flight plan and give us PAPPS just below the airspace.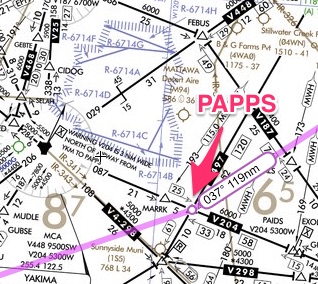 I put it in the FMS and it's easy as one, two, three. I didn't have to do the legwork to find out if it was open that morning. Seattle Center took care of it for me. It's their job.
VFR flight plans are a completely different matter. I am never complacent when planning VFR flights. I usually always avoid restricted areas even if they are cold.
Note: If you are up flight following (which I always recommend) Center will keep you clear of active restricted airspaces. Flight following is different from opening a flight plan with FSS. The FSS will NOT keep you clear of Restricted airspace. 
But sometimes restricted areas are too big to avoid which brings me to the second question you need to answer:
What are the altitude restrictions?
You may not need to fly around the airspace. You might be able to fly above or below it.  
For example, look at this one near Pendleton, OR. It only goes up to 6000 feet. So, fly at 7000 feet and you're fine.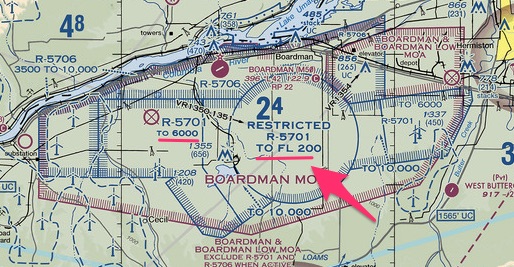 You can also look at the Special Use Airspace chart on the side of the VFR sectional to find the specific altitudes if you have a hard time picking them out on the chart (which happens on a cluttered chart).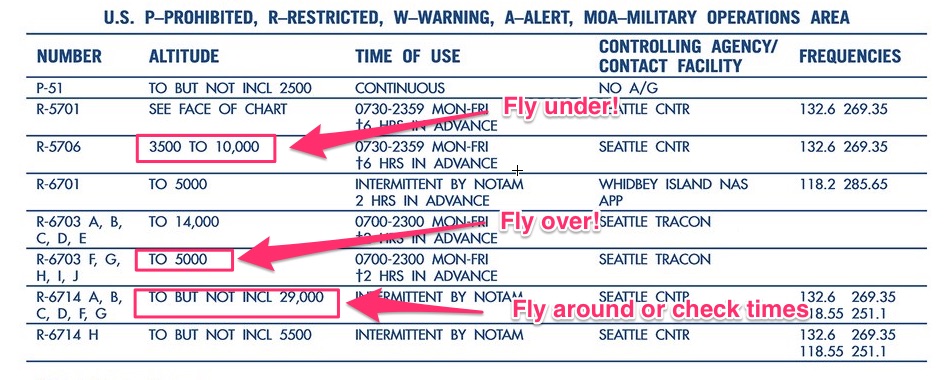 Okay, what if the altitudes go up to 20,000 feet and you can't get around it? Then you need to answer question three.
When is it open?
You need to pull out the VFR sectional and look at the chart.
Check out this table on the bottom of the legend area. It will tell you everything you need to know about a restricted area on that sectional: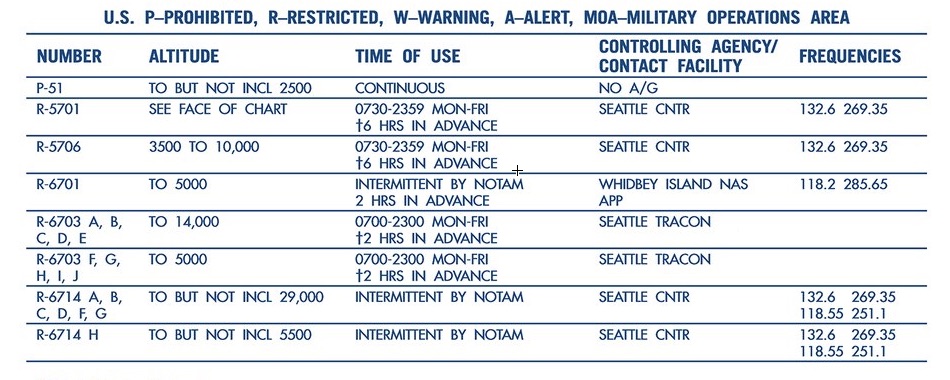 Also, you may see SR-SS on the table, it means Sunrise to Sunset.

Notice some of them say to check NOTAMs to find out the hours. Do so, but I would definitely call FSS as well.
I wouldn't rely solely on NOTAMs because you might miss it, but here is how you check NOTAMs for active restricted airspace.
If you have Foreflight, it's easy. Go to the airport nearest the restricted area and under NOTAMS, click on the ARTCC button. In this example, I used Yakima, Washington (KYKM).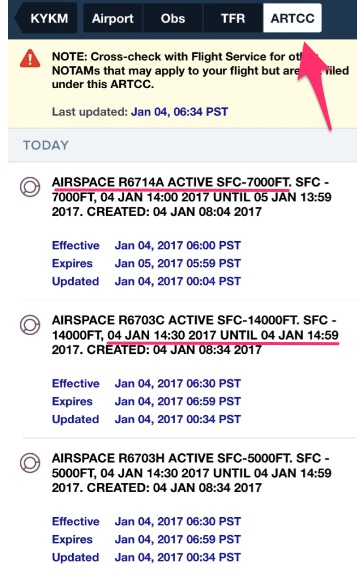 If you don't have Foreflight, go to the FAA NOTAM website.
Click on the ARTCC section: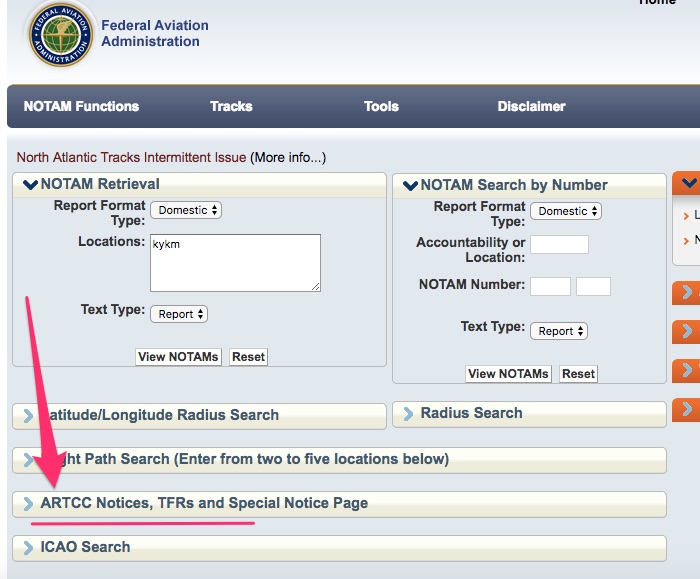 Then find your specific ARTCC area. If you don't know it off hand, go to this website: AirspaceCoordination.org and check out the map to find out who is your ARTCC.
For now, use this map to find the ARTCC thee-letter identifier in your area: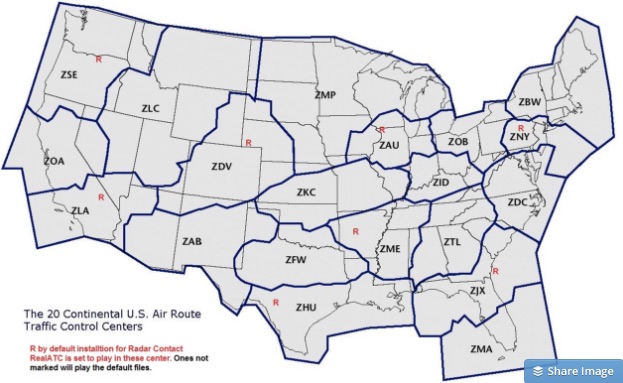 Then click the appropriate box on the NOTAMs page: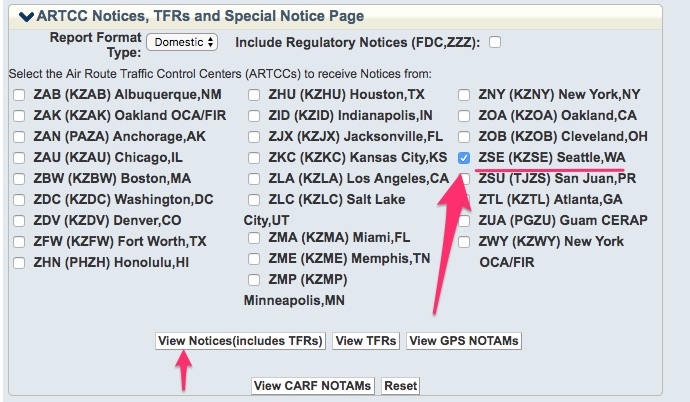 The next part is the hard part where you might miss the NOTAM for the restricted area. There are usually a lot of ARTCC NOTAMs and you really have to dig for the one you are looking for. Check it out:

That's it. Pretty simple, but easy to miss.
Remember, the absence of a NOTAM doesn't mean it's "cold" or "inactive." Some restricted areas have continuous operating times or set times and they never produce NOTAMs. 
Don't rely on the NOTAMs, please! Call the FSS and then as a back up, call the controlling ATC agency once you get in the air.
These restricted areas are no joke. You will lose your license for flying through one without permission.
But wait, how do you know the controlling agency?
Again, go to the VFR Sectional chart and find your respective restricted airspace table. The chart will tell you the frequency of the controlling agency.
The controlling agency is always "Center," or some other ATC facility that handles IFR traffic. I know this can be intimidating for new or infrequent fliers.
If you aren't comfortable talking to Center, you need to make it a priority to learn how. One way to do that is always ask for flight following on cross-country flights.
Another way is to read this fantastic book by Jeff Kanarish: "Radio Mastery for VFR Pilots." He also has a fantastic book for IFR pilots called: "Radio Mastery for IFR pilots."
These books will walk you through the ins and outs of radio communications in all situations.
Bottom line: Go around, above or below restricted airspace. If you can't then Check NOTAMs, call FSS before you leave, then double-check with the controlling agency when you are in the air.
Additional reading
FAA's Special Use Airspace Live website with graphical depictions.
AIM's definition of a restricted area. 
Do you want weekly tips and resources?
Subscribe to keep learning.