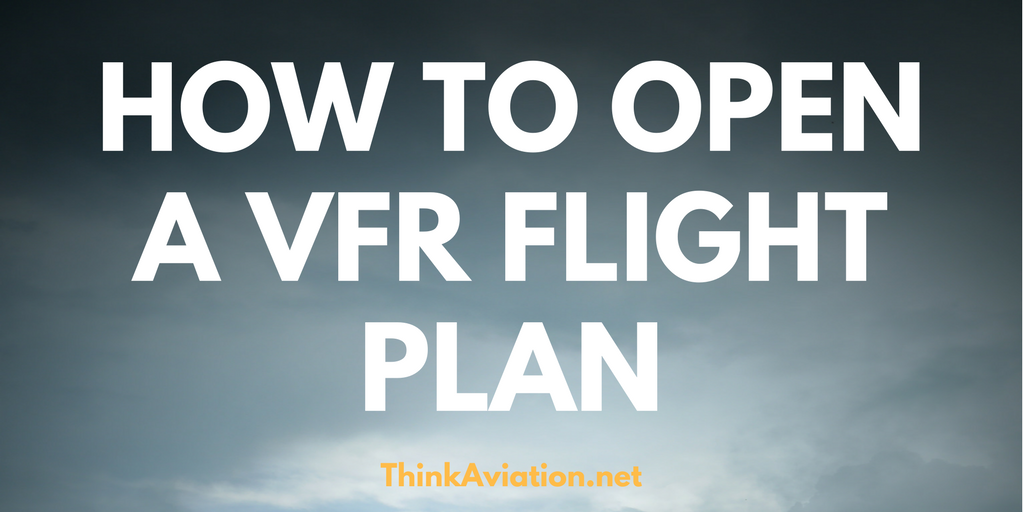 On cross-country flights it's essential you file a VFR flight plan for search and rescue purposes. However, just because you filed the flight plan, doesn't mean it's open.
This article will go into several ways you can open your VFR flight.
First, though, let's talk about the importance of a flight plan.
Why file a VFR flight plan?
VFR flight plans exist for one reason only: search and rescue in an emergency.
It goes without saying (but I'm gonna say it anyway) that a VFR flight plan doesn't do you any good unless you open it!
You can file VFR flight plans all day until you are blue in the face and nothing will happen. You have to actually activate it and here are a couple ways:
How do you open a VFR flight plan?
There are two main ways you can open a VFR flight plan one is the traditional way and the other way is for pilots who use Foreflight (an iOS app I highly recommend and use every day).
How to open a VFR flight plan through the FSS:
Assuming you filed your flight plan, the next step is to open the flight plan by calling the FSS.
You can either reach the FSS on the ground or in the air.
There is no advantage to opening a VFR flight plan on the ground vs in the air. You choose. The procedure and radio calls are identical.
Sometimes you won't be able to reach them on the ground due to the terrain.
How do you know the right FSS frequency?
Before you call the FSS you need a critical piece of information: the right frequency.
I highly recommend you write down this number prior to takeoff!
You can find the FSS above the airport information on the VFR sectional. Or, if you have Foreflight, it will be in the airport information section.
Check it out: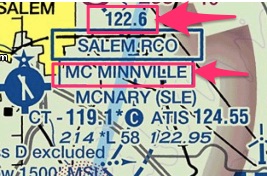 In this example, the name of the FSS is "Mcminnville" on 122.6 and not "Salem RCO."
Here are some more examples: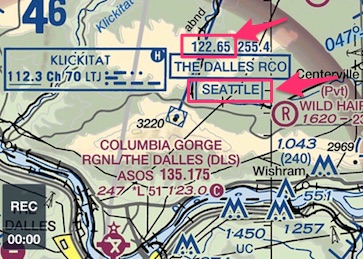 "Seattle Radio on 122.65"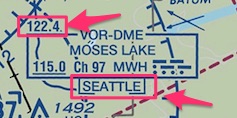 "Seattle Radio on 122.4"
For all you Foreflight users, it's super easy. Just type in your departure airport and there it is: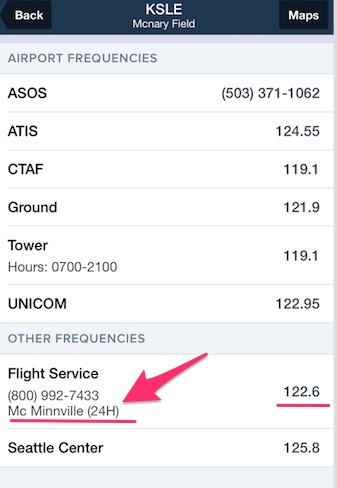 So, now you know how to find the frequency, the next step is to call them.
I recommend you get to safe altitude and do your after takeoff checks before you call. I use 1500 feet above ground level, then I call the FSS.
Note: if you are a single pilot, or only have one radio, you must wait until you have departed the Class D airspace before you give the FSS a call.
Traffic avoidance is the most important thing near an airport, not your flight plan.
The call goes like this and always starts with a heads up call:
"McMinnville radio, Cessna 12345 on one-two-two point six"
Note: always tell them what frequency you are on. They monitor multiple frequencies and won't know which one you are on.
"Cessna 12345, go ahead."
"McMinnville radio, Cessna 12345, I'd like to open my VFR Flight plan to Salem, Kilo, Sierra, Lima, Alpha." 
"Cessna 1234, McMinnville radio, your VFR flight plan is open, weather advisories available on HIWAS, PIREPS appreciated, have a good flight."
(the exact wording might be a bit different, but they will tell you where you can get weather advisories and they will ask for PIREPS. You don't have to repeat everything they say).
"Cessna 12345, good day."
That's it! Boom!
Now the hard part is remembering to close your flight plan!
So, there is another way to open your flight plan if you own an Apple device and you subscribe to Foreflight.
How to open a VFR flight plan through Foreflight
If you read enough of my articles, you will know I am a huge fan of Foreflight. It requires an Apple device, which is why I got my first iPad. The program is that valuable.
One of my favorite features is the option to open your VFR flight plan with a button.
You don't need to call the FSS! It's brilliant…if you also remember to close your flight plan.
You must file the flight plan through Foreflight and then it gives you the option to "Activate" your flight plan.
Check it out:
First, you need to add a flight plan. So, click on this button under "Flights."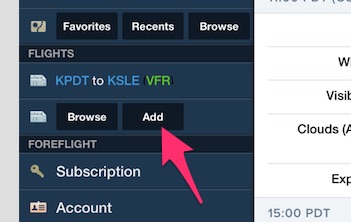 Fill out the details of your VFR flight plan: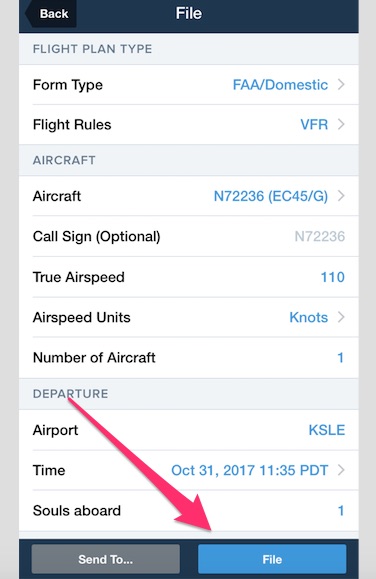 Then hit "File." Filing in this way on Foreflight means you do NOT need to call the FSS to file your flight plan.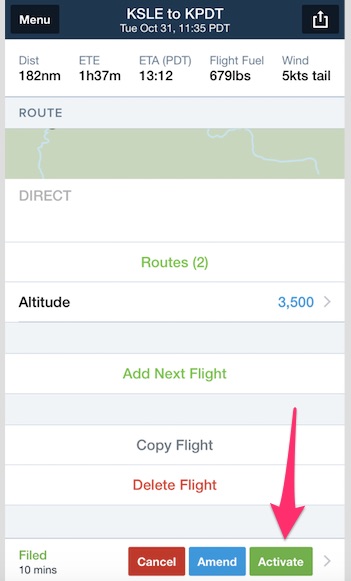 After you file it, these three buttons will pop up giving you the options to "Activate" or "Amend."
The next step is to hit the button.
I highly recommend you do this on the ground prior to taking off.
Make sure you are at a full stop.
If you manipulate your own checklist, you might want to consider adding "activate flight plan" to your pre-takeoff checklist.
I have a confession: you can, at the right altitude, activate your flight plan, after takeoff if you forget. However, once you are past about 2500 feet you won't be able to. The cell reception isn't good enough.
Note: you can open your flight plan through Foreflight and close it in the air through the FSS when you get close to the airport.
Just because you open it through Foreflight doesn't mean you have to close it that way.
Interesting fact: the FSS' computer system tells them how you opened your flight plan. They told me once they could see I opened it through Foreflight.
Now you know how to open a flight plan, I want to go into depth on VFR flight plans.
Is a VFR flight plan the same as flight following?
Nope. Not at all.
I wrote an in-depth article on how to pick up VFR flight following. I highly recommend you flight follow in addition to opening your VFR flight plan.
Flight following offers the highest level of protection.
Just be aware you need to open your VFR flight plan even if you pick up flight following.
Flight following does NOT automatically open your VFR flight plan.
In fact, you don't need to be on a VFR flight plan to get VFR flight following.
What happens if you don't open a VFR flight plan?
Well, nothing which is the problem. It sits in the system and drops off eventually.
This is important: if you don't open your VFR flight plan with the FSS or through Foreflight, no one will come looking for you if you crash.
When you don't open a VFR flight plan with FSS or Air Traffic Control (ATC) it's as if you never took off.
I did this once on a long cross country. It didn't' occur to me until I landed that I filed my flight plan, but I hadn't opened it.
I was an idiot because I flew over a large swath of National Forest in Oregon. No one would have found me below a 150-foot tree canopy.
There is one way to mitigate this risk: use a Spot Tracker. It sends your position every couple of minutes to a server so your loved ones can log on and find you immediately.
You should still open a VFR flight plan and get flight following even with a Spot Tracker, though. The Spot Tracker just allows the search and rescue people to find you immediately, but you still need a VFR flight plan to trigger search and rescue.
The Spot Tracker does have an emergency button but if you are incapacitated, it won't help.
When does the FSS initiate search and rescue operations?
Because the whole purpose of filing and opening VFR flight plans is for search and rescue, it's important to know how the system works if you don't make it to your destination.
The flight service station (FSS) will start the initial stages of search and rescue 30 minutes after your proposed landing time.
Notice I said, "proposed?" If you end up taking off late, the FSS will adjust your landing time. So if you said you were going to land at 10 am, but you took off an hour late, they won't come looking at 10 am, they will come looking at 11 am.
They will base this number on the "time en-route" you filed on your VFR flight plan. Therefore, I highly recommend you choose an accurate time for your "en-route" time.
Some people add a buffer which is fine but you need to understand anytime you add time it will take longer to find you.
Here are the stages of search and rescue:
They will call the number on the flight plan. Please put your cell phone number in there. This is not the time to get concerned about your privacy. You want them to call you immediately if you forget to close your VFR flight plan! Trust me! I guarantee you will forget to close your flight plan more than once in your aviation career.
If no one answers, they will call the FBO at your destination airport and ask them to do a "ramp check." Someone will walk the ramp looking for your tail number.
If either of these two doesn't work they will start coordinating with ATC to find your radar track and locate you that way in the hopes you diverted to another airport. Or maybe you were up flight following with them and they could shed some light on where you went.
If that doesn't work, they will call the authorities and they will start a serious search.
I hope this article helped you understand how to open a VFR flight plan, but more importantly why you should. It could save your life.
Get Your Ultimate Guide!
Download your FREE guide. Plus get emails full of aviation tips and resources!!