What are NOTAMs?
The Aeronautical Information Manual's (AIM) official definition is: "Time-critical aeronautical information which is of either a temporary nature or not sufficiently known in advance to permit publication on aeronautical charts or in other operational publications receives immediate dissemination via the National NOTAM System."
So, that's the book answer, but what do NOTAMs mean to you, the pilot?
NOTAMs are simply a way for the FAA to communicate important information which may keep you from completing your flight as planned.
NOTAMs are usually temporary, and it wouldn't make sense to put them in a more permanent document like a taxi diagram or approach chart.
They are also time sensitive.
If someone crashes on a runway, and the airport shuts down a runway for half a day, the NOTAM system is the primary way for the FAA to relay that information.
Do pilots have to check NOTAMs?
It should be self-explanatory why you need to check NOTAMs, but I know some pilots don't. They get so frustrated by the "outdated," "time-consuming," "cumbersome," NOTAM system they avoid it.
I get it, NOTAMs are all of those things, and if you don't fly very often, it is hard to read them quickly and figure out which ones apply to your flight. 
But you should still check them and here's why!
The AIM sums it up perfectly:
"NOTAM information is that aeronautical information that could affect a pilot's decision to make a flight."
If that's not a reason to check them, I don't know what is.
There are several more reasons to check NOTAMs:
You may not be able to complete your flight as planned (i.e. if the runway is closed for a few hours)

You may not be able to do the instrument approach because the only approach at the airport is one your aircraft can't do.

The lights might not be working and you're landing at night.

You will need to do a long taxi re-route due to airport construction and you weren't prepared for it.

You will sound like an idiot when you ask for something that was NOTAMed out.
You get the point. I could go on and on. 
You must add this to your flight planning habit. It should be so ingrained in your flight planning process it would feel weird NOT to check NOTAMs.
Hopefully, I've convinced you, but what's the best way to check NOTAMs? 
How do you check NOTAMs?
There are a variety of ways to check NOTAMs in the United States. The two main systems are:
DOD Defense Internet NOTAM Service (DINS)
The two websites I listed above are for the more time-sensitive NOTAMs. The FAA also publishes NOTAMs every 28 days in a PDF.
I highly recommend you skim through the entire thing, especially the section for your state.
FAA's Notices to Airman Publication
The more convenient way to check the time-sensitive NOTAMs is through third-party apps like Foreflight or Fltplan.com. 
Everyone has their favorite way of checking them, I personally use Foreflight because it is a superior flight planning program, but Fltplan.com is free and doesn't require an iOS device.
I'm not going to cover the nitty-gritty of how to check them in this article because I go in depth in this article: How to Check NOTAMs.
Who issues NOTAMS?
It depends on which type of NOTAM.
They are all technically issued by the FAA, but who submits them depends.
If the NOTAM applies to the airport (ie runway closures, taxiway closures, lighting problems, ILS equipment outages) are all submitted by the airport manager.
Any chart discrepancies, TFRs, airspace terminal radar issues are submitted by the FAA.
Why is that important to you? Because if the NOTAM is incorrect, outdated, or you think something deserves a NOTAM, you know who to contact.
Start with the airport manager if it's related to the airport. You can find the airport manager's contact information in the airport facility directory: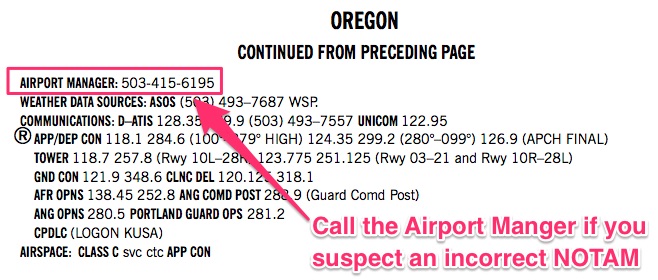 For the FDC NOTAMs, you can find the contact info by looking at the Introduction section of the FAA NOTAM publication.

Now you have no excuse to complain about an outdated NOTAM. You have the power to change it!
Remember, we are all human, especially the FAA. Help them out by letting them know when NOTAM information is obsolete or incorrect.
Just be nice about it.
When are NOTAMs issued?
Well, it depends because there are two main ways to publish NOTAMs.
The main NOTAMS publication is published every 28 days. You can download the NOTAM publication here. 
I highly encourage you to download this document if you live in the US and skim through the entire publication especially the introduction pages.
In fact, I encourage it so much, I'm gonna give you a homework assignment!
[Homework Assignment]:
Step 1

: Go to your state's section in the NOTAM publication and find an airport you are familiar with.

Step 2:

Go to the FAA's NOTAM website and enter in that airport.

Step 3:

Compare the NOTAM publication to the PilotWeb NOTAM website. You will now have a greater understanding of what types of NOTAMs are published every 28 days and which ones are published within that 28-day window.
Otherwise, NOTAMs are published on an "as needed" basis. Remember the whole purpose of the NOTAM system is to relay time-sensitive information to pilots.
Most of the time you will have a couple days heads up a NOTAM will be in effect. 
Watch out, though!  If you don't read the dates correctly, you may think you can't complete the flight.
You must read the NOTAM times correctly.
Trust me, this mistake happens all the time! Just the other day I heard two 10,000 hour pilots discussing how they had gotten the times wrong. 
How to read NOTAM times:
Here's a trick so you don't get confused: Convert the entire time of your flight (i.e. 0700-1200hrs) into UTC time BEFORE you read NOTAMs.
Now you can figure out if the NOTAM applies to you because you will have converted the time prior to reading the NOTAMs.
For example, for a flight taking off at 0700hrs at Pacific Standard Time, landing at 1200hrs PST you should write down: 1400-1900 hrs UTC.
Now when you read a NOTAM that falls within that window (1400-1900UTC), you'll know it applies to you. You can disregard the rest. 
Note: Notam times are always in UTC time (even on apps like Foreflight). This trips people up all the time, even experienced pilots. Foreflight does convert the times for your, but not within the actual NOTAM. Check it out: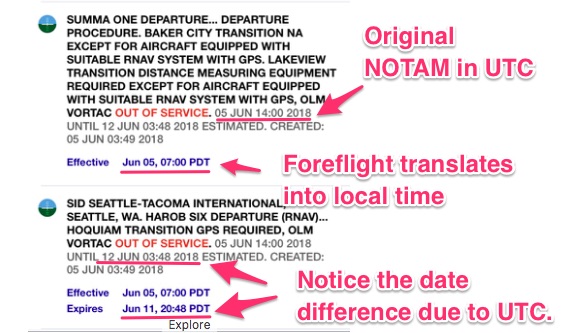 What are the different types of NOTAMs?
I wouldn't get too wrapped up in being able to name the different types of NOTAMs unless you need to spit them out for a checkride.
When it comes to actually flying, the type doesn't matter it just matters if you can read it and interpret the data. But, let's go through them anyway.
The AIM outlines the five categories nicely.  
Distant NOTAMs: many years ago the FAA wrapped up local (L) NOTAMs into Distant NOTAMs, so if you've been out of the game for a while, most of the important NOTAMs are (D) NOTAMs.  
Flight Data Center (these start with "!FDC"): these NOTAMs cover the following:

Temporary Flight Restrictions (learn more by clicking here)

Changes to charts

Changes to instrument approach procedures

Natural disasters

Large-scale public event NOTAMs which aren't covered in the 28-day publication.

Special Activity Airspace: these are for times when special use airspace is used outside of the normal published times.
Note: If you are wondering what the "normal published times" are, read this article on restricted areas and it will link to the articles I've written on special use airspace.
4. Pointer: these always trip people up. Don't get wrapped up in these because they are rare.
They will show up in the search of your destination or departure airport. You don't have to go find them.
You do have to do a bit more work to figure out what it is, though, by entering in the NOTAM number into the FAA's PilotWeb NOTAM website.
In this example below, enter "ZAU and 07/033" in the search function on the FAA website. 
You will know its a pointer NOTAM because it will say "SEE" in it and reference a different NOTAM:

        5. Military: the military has its own airports and they use different equipment from general aviation pilots. The military NOTAMs are for…the military. You can find them on the DOD DINS website. I wouldn't worry about them unless you are in the military.
How do you read NOTAMs?
The million dollar question!
This is one of biggest complaints people have about NOTAMs: the raw coded data is really difficult to read if you aren't used to it. You will also inevitably run into acronyms you haven't seen before.
I have written an article called "The Complete Guide To Decoding NOTAMs," which covers this topic in depth. Please check out that article.
I also created an in-depth course which will teach you everything in this article including how to figure out if NOTAMs apply to your flight. Check it out:  NOTAMs Made Easy.
The course includes an acronym PDF you can use for when you run into any acronyms you don't recognize.
How do you know which ones apply to your flight?
This is the billion dollar question and the biggest problem for pilots.
It's easy to check NOTAMs, and decode them, but how do you wade through the hundreds of NOTAMs and pick out the ones which apply to you?
I'm going to give you some tips to work through them quickly, but it's too vast a topic to cover in a few hundred words.
I have created a comprehensive course which takes a deep dive into interpreting NOTAMs. You can check out my NOTAMs Made Easy course by clicking here.
For now, I'll cover some general guidelines. 
I can cut out 50% of them just by doing the following:
Disregard all OBST NOTAMs. If this makes you uncomfortable, then just look at the height of the obstacles, anything over 500 feet AGL, might be important, but 90% of OBST NOTAMs aren't that high.
VFR-only pilots can disregard the following keywords: IAP, STAR, SID, OPD. These are usually the last NOTAMs listed.
Lighting NOTAMs: are you flying during the day? Go ahead and disregard the lighting NOTAMs. At night, just focus on the runway lighting outages. A lot of NOTAMs will talk about "non-standard" lighting. Personally, I don't care about non-standard lighting.
IFR pilots: if you know what equipment you have and the performance of your aircraft, you can disregard a lot of IFR NOTAMs. For example, if you don't have GPS, then disregard RNAV approach NOTAMs. If you can't go more than 200 knots, then most STARs won't apply to you. If you aren't a Part 121 airline, then disregard "RNP" approaches and CAT II and CAT III ILS NOTAMS.
Know what time your flight is in UTC before you read NOTAMs. Some NOTAMs are published several days before they become effective so that "RWY CLSD" NOTAM might not apply to you.

Note: most runway closures are in the middle of the night. If you think it's during the day, double check your UTC vs Local time.

Know where you are going on the airport diagram. This will let you disregard a lot of the taxiway closure NOTAMs.
I hope this article helped you. If it did, share it with your fellow aviators.
As a reminder, I created a course which goes in depth into NOTAMs. Check it out:  NOTAMs MADE EASY.
Get Your Ultimate Guide!
Download your FREE guide. Plus get emails full of aviation tips and resources!!