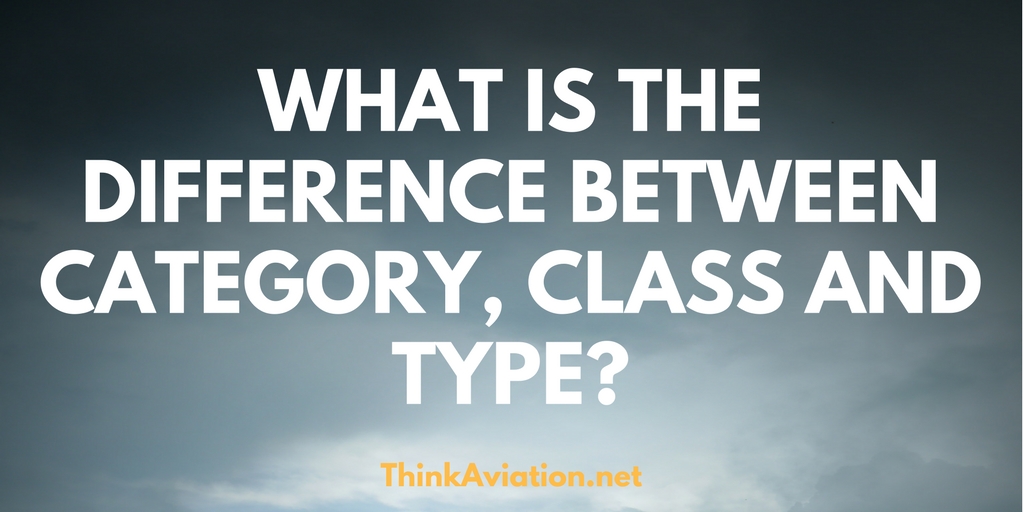 Oh man! This question has taken me FOREVER to figure out. I kept hearing people say things like: "you need a type rating to fly that." What does that mean, though? Why is one typed and the other isn't?
Great question. First, you need to understand some definitions.
Category of aircraft
A category is an overarching classification of aircraft. For example, airplane, helicopter, and glider, etc.
Class of aircraft
Each category is further broken down into a "class."
Airplanes and helicopters are classified as "single-engine" or "multi-engine."
Airplanes are further classified as "land" or "sea."
You can also combine the classifications to complicate things. They can be "single-engine land," "single engine sea," or "multi-engine land." You get the point.
I've personally never seen a multi-engine sea aircraft, but they exist, so I've been told!
So, let's put it all together with four examples:
Type rating for aircraft
This is where things get confusing.
All turbojets, regardless of weight, require a "type" rating.
Non-turbojet (ie. turboprop) airplanes don't have a separate "type" rating until they get above 12,500 pounds.
For example, most King Air 200s weigh less than 12,500 lbs, so it stays in the class of multi-engine land with no type rating.
The King Air 350, though, weighs more than 12,500 lbs. In order to fly it, you have to get special training and a check ride. After the check ride, your FAA license will list the type.
The FAA outlines its training requirements for a type rating in their Advisory Circular: AC 61-89e. Type ratings are no joke.
How to find the type rating for your aircraft
It's difficult to know what the official type rating is compared to the commercial name of the aircraft.
I used to fly the Bombardier Q400 for a regional airline. After I did my final check ride in the simulator, I got a DHC-8 "type" rating. I thought they type rating would read "Q400," but not so.
Here's how the FAA lists the Bombardier Q400.

Click here to get the FAA's list of type ratings to figure out what the different aircraft will translate to on your FAA license.
NOTE: Helicopters generally don't have type ratings because they usually don't weigh more than 12,500 pounds. Click here to get the list of FAA type ratings and scroll to the bottom for helicopters.
Here is a screen shot of the helicopters with type ratings.
Notice the UH-60 Blackhawk will go on the FAA license as an "S-70" type.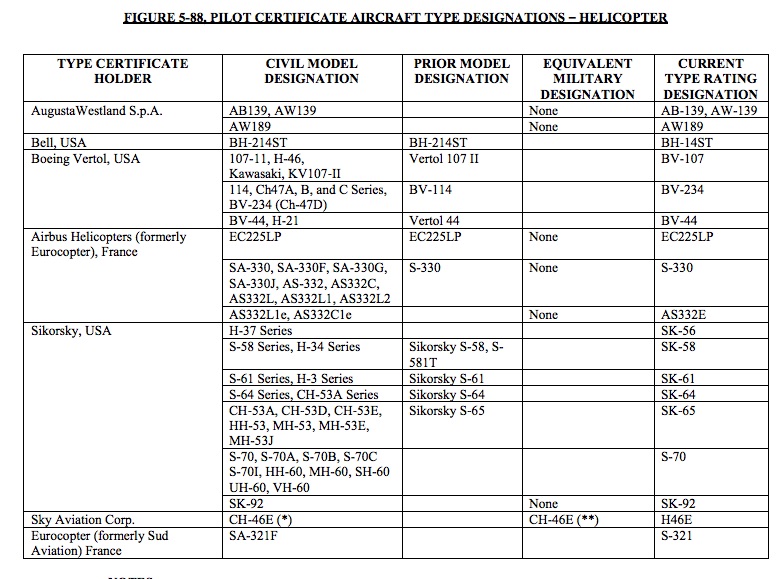 Type Rating vs Special Training
Also, don't confuse "type" ratings with "special training."
Some people think you need a type rating to fly an R-22, but that's not true. The FAA requires you to have "special training" to fly the R-22 or R-44. You can read more about the SFAR 73-2 by clicking here.
NOTE: "type" ratings mean different things in the international community. Europe and Australia almost always require you to get checked out in every aircraft you fly.
Final Warning
Please be careful before you go around saying you need a "type" rating to fly a certain aircraft. A lot of time this isn't true. Do your homework.
Sometimes you only need a type rating to act as a PIC (no, this doesn't mean sole manipulator of the controls, it means to act as the "Captain"), but the SIC only needs a category rating.
Sometimes the insurance company requires a check ride and additional training, but not the FAA.
Sometimes the customer wants both pilots to have ATPs, but other times they only need commercial licenses.
It all depends. Know the difference.
Hey! One more thing!
Have you struggled to dig through NOTAMs just to find a few relevant ones? I created a PDF to help you sort through NOTAMs quickly. 
Click here to learn tips on how to sort through NOTAMs quickly.
I'm here to help!
Get Your Ultimate Guide!
Download your FREE guide. Plus get emails full of aviation tips and resources!!