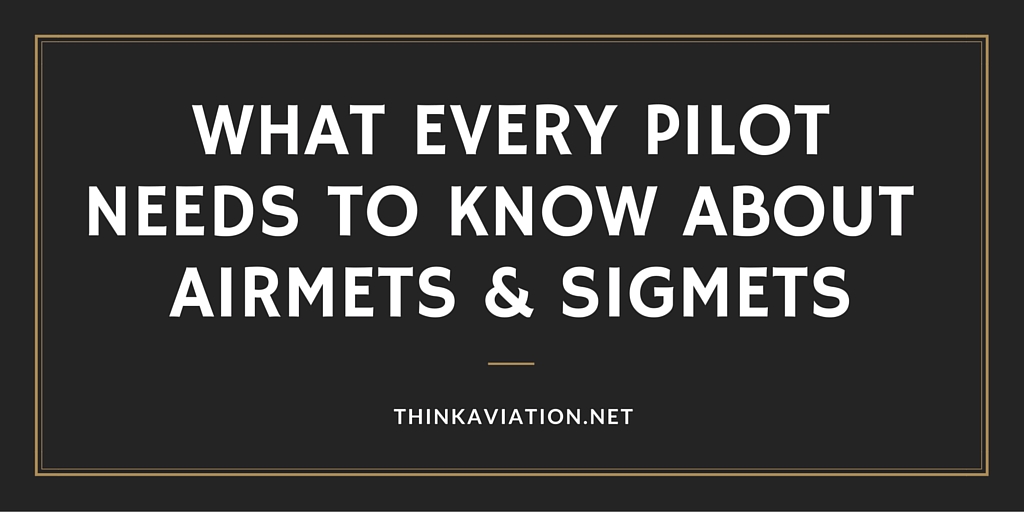 Every pilot needs to know the difference between AIRMETs and SIGMETs.
They can be confusing, so let me keep it very simple: avoid SIGMETs at all costs and think twice about flying in an AIRMET.
With that said, let me explain.
AIRMETs are a description of weather that are "occurring or may occur along an air route that may affect aircraft safety." (Wikipedia) Notice the keyword in the definition is "may."
AIRMETs last 6 hours at a time
There are three types of AIRMETs you will see:
AIRMET Sierra: Mountain obscuration. Ceilings are less than 1000′ and 3 over a wide area
AIRMET Tango: Turbulence. Light to moderate turbulence or sustained surface winds of 30 knots
AIRMET Zulu: Icing. Moderate icing and freezing levels.
Why think twice about flying in an AIRMET? Because these warnings are potentially dangerous, but you can mitigate the risk by adjusting your flight plan.
For example, during the winter months in the Pacific Northwest there are permanent AIRMETs Sierra, Tango and Zulu. Almost every time I call for weather I will get one or all three of those AIRMETs.
I don't worry about them, though, because I can adjust my route. I either fly up the Columbia Gorge to avoid the mountain obscuration, or I fly below the clouds and thus out of the icing levels, or I stay away from the mountains where the turbulence is.
You can work around AIRMETs, what you can't work around are SIGMETs.
Don't mess around with SIGMETs. Wait them out. Go get coffee. Chill out until it passes.
SIGMETs effect the safety of all aircraft. Even the big boys. 
They are classified as either "convective" or "non-convective." The non-convective SIGMETs are for severe or greater turbulence or dust/ash. Convective SIGMETs are for thunderstorms.
SIGMETs last for 2 hours, so you may have to wait the weather out for 2 hours at a time.
Like AIRMETs, SIGMETs are issued for either actual or forecasted weather conditions. "Outlook" SIGMETs are just that: a prediction. Active SIGMETs are depicted in red on Foreflight and Skyvector and they are dangerous.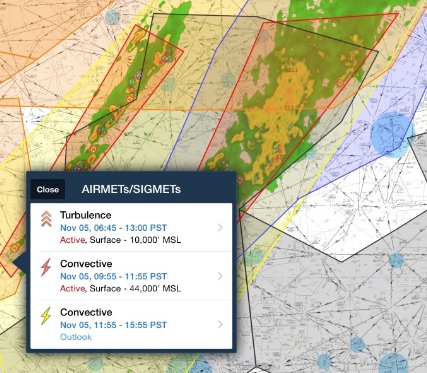 In the military we are prohibited from flying in active SIGMETs. We can fly in "outlook" SIGMETs.
I highly recommend you place the same restriction on yourself for active SIGMETs.
By making this a hard and fast rule, you completely take the decision making out of the situation. It's already decided.
Let me give you an example of when this is useful. We were at Barstow Dagget airport which is at the very bottom of the SIGMET in the image below. We were so close to the edge of it we were tempted to take off anyway, but we didn't. We weren't allowed to, and I'm glad we weren't allowed to.
When you are on the edge of a SIGMET it is tempting to push it. What the SIGMET doesn't show is all of the convective area outside the SIGMET box. There is also usually a larger outlook SIGMET surrounding the active SIGMET.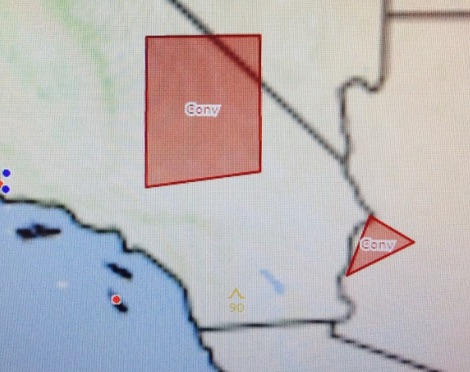 Just because you are in an "outlook" area doesn't mean you should fly. Look at the image below. The radar imagery shows severe activity outside of the red and yellow boxes. Weather changes rapidly with SIGMETs.
Do not get lulled into a sense of security. SIGMETs of any kind should scare you.
I will concede there are certain situations where you could fly through a convective SIGMET. It is an unusual situation which I covered in depth in a case study. You can read that case study by clicking here:
CASE STUDY: Can you fly through a convective SIGMET?
I hope gives you a better understanding of SIGMETs and AIRMETs.
Bottom line: SIGMETs are serious, but you can work around AIRMETs.
Hey! One more thing!
Did you like this article? I email my readers every week with more articles just like this. The thing is, these articles aren't on my blog! You can only get them by subscribing.
Still don't want to join my email list? That's okay. You can still download a FREE Ultimate Guide to Decoding NOTAMs below. You can unsubscribe after you downloaded the guide. I don't mind, seriously.
Get Your Ultimate Guide!
Download your FREE guide. Plus get emails full of aviation tips and resources!!