Do you want to take your piloting skills to the next level? Are you just hoping it will happen on its own? It won't. You have to work hard.
Here are 5 effective habits you can implement to help you get better one day at a time.
Not all of them are aviation specific and I did that on purpose. You can't be an expert aviator without mastering yourself.
1.  Study aviation 5 minutes a day
I have noticed an enormous difference in my attitude, performance and understanding of the airplane since I started studying 5 minutes a day. 
You will also notice an enormous impact on your own understanding of aviation with this habit. You will also loose your fear of failing a checkride. Say goodbye to cram sessions!
Here are some suggestions on what to study if you are wondering where to start:
2.  Establish a morning routine
Tim Ferris the best selling author of 4 Hour Work Week and 4 Hour Body always asks guests on his podcast about their morning routine.
Why does he do this? Because he understands the power of the morning routine. You have no idea what you life could be like until you take control of your morning. It has changed my life. It will change yours. Start with YOU in the morning. Don't start with social media or email. 
Here is an example morning routine from Hal Elrod's Miracle Morning:
Start with the night before. Set your intentions before you go to bed. The last thing you think when you go to bed is what you will think when you wake up. If you tell yourself you will feel tired, then guess what? You are doing to feel miserable. So go to bed with the intention of feeling incredible.

Set your alarm in the part of the room that requires you to get out of bed and put a glass of water next to it. 

When the alarm goes off, shut it off and drink

 a 

glass of water then head straight into the bathroom and brush your teeth.

Once you have brushed your teeth and drank water there is a very low chance you will crawl into bed again. The hard part is over.
Now do your morning routine. It should include the following
Exercise: 5-60 min (there is enormous benefit to oxygenating the brain first thing in the morning)

Meditate

Writing: this could be journaling or writing articles or a book

Affirmations/Visualizations: read your goals, see yourself doing the actions related to your goals, and say 3 things you are grateful for

Study aviation topics
I have gotten to the point I feel lost when I don't do my morning routine. When I do I notice a substantial increase in my productivity.
Give is a go for 30 days. You will notice a change too.
3.  Exercise daily- even if it is only 10 push-ups
You have the best chance of retaining your medical certificate into old age if you create a daily exercise habit. When someone asked Mathew McConaughey what he does he replied simply: I try and break a sweat every day. I love the simplicity of that answer. He made exercise a part of his daily life.
Don't get hung up on what type of exercise you should do or when you should start and what gym you should sign up for.  Just start with something today! Anything. Change it later.
If you really need a suggestion and want quick results try Crossfit and/or Hot Yoga. Both will kick your ass.
Or here is another simple suggestion that uses the power of time and daily habits. I started something new this year which you may want try if you have an exercise goal.  You may have a different set of exercises, but the principle remains the same.
I set a goal to do 50 push ups 100 sit-ups and 100 squats 6 days a week on top of my regularly scheduled exercise routine. I chose these exercises because I have a goal of scoring 100% on my Army physical fitness test in October.
After reading two books: The Power of Habit and the The Compound Effect I realized I had terrible goal setting techniques. I should have broke the goal down into manageable parts.
So I decided to build up to my goal. I wanted to create the habit and celebrate the small wins along the way.
I knew that after about 60 days of doing something I would keep doing it without a second thought. So I counted backwards from the 50/100/100 and figured out how many I would need to increase every week so that in 60 days I would hit my goal. The first week was brutal. I struggled to do the 14/25/25. I didn't want to. I did most of the push ups on my knees which is not what I had planned. But I knew this would happen the first week and probably the second. I didn't beat myself up, though (which is actually very unlike me). I am still going strong and I am close to my goal. 
So give this technique a go and see how it works for you.
4.  Meditation-not just for woo woo people
A poll of the most influential, wealthy and successful people found they attributed mediation to their success. There are enormous physical and mental benefits to meditation. Check out this quick article on meditation: Leo Babauta from Zen Habits.
Aviation is a mental game and meditation will take you to the next level.
A word of caution: it isn't easy to quiet the mind. This is probably one of the most difficult mental challenges you will undertake. Be kind to yourself as you learn meditation. 
I use an app to help me out. By far the best app out there is Headspace. All the others annoyed me. Its free at first. It does cost money to upgrade. This is an investment in yourself, though, so skip the triple espresso mochachino soy almond latte for a day and upgrade. 
5.  Do an "After Action Review" after every flight
Forgive me for using an Army term: AAR. However, the Army has used this powerful method of self-evaluation for a long time and for good reason. The Army knows if you don't get better fast, it could mean your life.
Do yourself an enormous favor and take a minute when you fill out your logbook to jot down both the good and bad points from your flight.
During the next day's study session flip through the pertinent references as reminder. This is the quickest way to internalize a wide variety of aviation topics.
I don't wait for the end of the flight, I like to scribble down notes during the flight. Check out an example. I used to fill up a page. Now I only write one or two notes. I always have something to write, though. Always.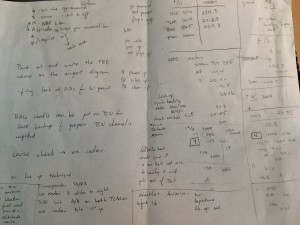 When was the last time you had a perfect flight?  That's what I thought! Write down your mistakes. Get better one day at a time.
 Do you have any other suggestions you think I should add to this list? What have you done that has made you a better pilot? Leave a comment below and share it with the community.
Do you want weekly tips and resources?
Subscribe to keep learning.