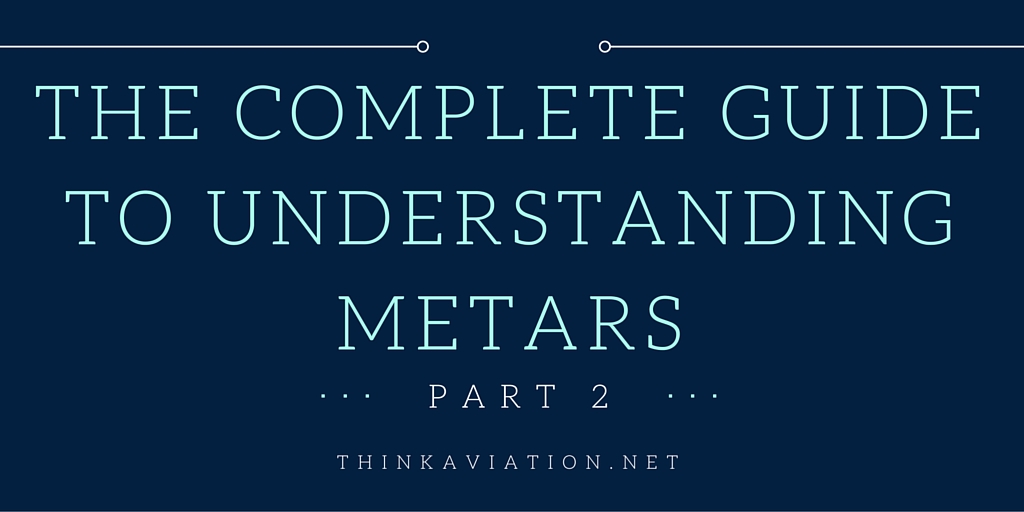 Getting METARs are a must for every flight, but for something so vital they are so difficult to decipher! Even programs like Foreflight don't completely translate all of the METAR. They typically leave off the remarks (RMK) section leaving pilots to wonder what the rest of the METAR means.
This is Part 2 of a two-part series on METARs. This first article covers the main part of METARs or what I call the "easy" part. If you haven't read the first article, check it out by clicking here.
This article tackles the most difficult part of the METAR: the Remarks section. You know….it's the section everyone ignores.
By the end of this article, you should be an expert in deciphering the Remarks section of METARs. Just kidding, you won't be an expert by the end of the article, but you will know more than when you started even if you have been doing this for a while.
Before we get started, I just want to point out, you should ALWAYS get weather before you fly. I don't care if you are staying in the traffic pattern on a clear blue and 22-day.
Aviation is about forming habits. Getting weather is the #1 aviation habit you need.
All right, enough of that. Let's get started.
The Hard Part
This is the part of the METAR that no one, including myself, pays attention to and for good reason. Half of the remarks section was never intended for pilots.
Don't ignore the remarks section completely, though. The beginning section of the Remarks section has some pretty awesome information if you know how to read it. It contains information about the weather that the main body of the report doesn't get into.
There are 36 different types of reports you will see in the remarks section and they are listed in the table below. Notice the "Additive and Automated Maintenance Data" is not for pilots which explains why you don't need to pay attention to the last part of the remarks section.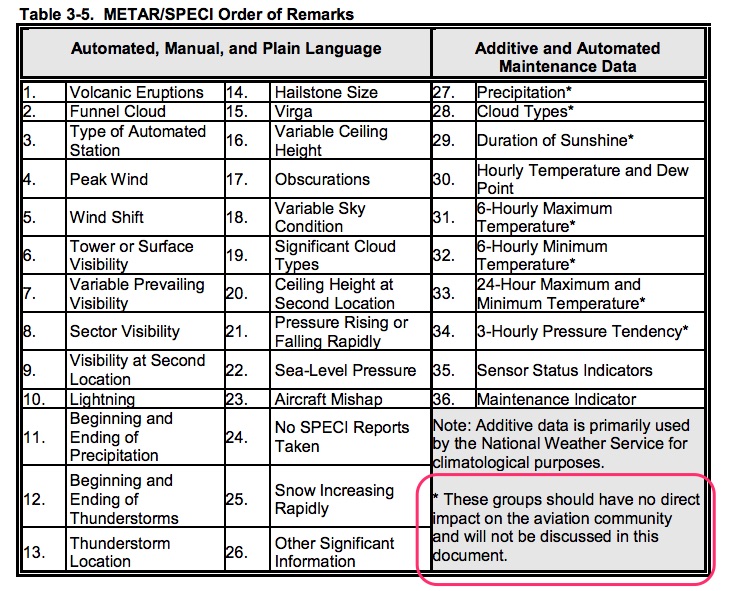 Automated Manual Plain Language: the useful part of the Remarks section
1. Volcanic Eruptions: This remark is self-explanatory. It will have the name of the volcano and the location of the ash cloud.
2. Funnel Clouds: You will see TORNADO, FUNNEL CLOUD or WATERSPOUT with the time it began and ended.
3. Type of Automated Station: This is a common Remark.
You will see either an AO2 or AO1.

The A01 indicates the station has no way to differentiate between types of precipitation. It may be raining or snowing, but you won't know it if you see an AO1.
The AO2, on the other hand, can tell the difference between snow and rain.
4. Peak Wind: This is a useful remark. Don't ignore this one.
Here is an example:  PKWND 35045/20
The first three numbers, "350" indicate the wind direction it's coming from. The next two numbers, "45" indicate the wind speed in knots. The number after the slash is the time after the hour. The "20" in this case means the peak wind happened at 20 past the hour.
5. Wind Shift:
It looks like this: WSHFT 30
The number after the WSHFT is the time the wind shift happened. So in this example, the wind shift occurred at 30 past the hour. If the wind shift happened due to a frontal passage you will see a FROPA after the "30."
6. Tower or Surface Visibility:
It looks like this: TWR VIS 1/2 or SFC VIS 3/4
7. Variable Visibility: This is important to let you know conditions are changing. You don't see these often.
It looks like this: VIS 1/2V1.  The "V" in any METAR indicates "variable."
8. Sector Visibility: This can be useful if only a certain part of the airport has bad visibility.
It looks like this: VIS N 2 1/2.  The Sector can vary between S, SE, SW, W, NW, NE…..you get the point.
9. Visibility at a second location:
Apparently, some airports are able to report visibility in several areas on the airfield. You will only see this remark if the second location has worse visibility than the main reporting station. It looks like this: VIS 2 1/2 RWY 11.
10. Lightning
You will see this reported as contractions from the acronyms below when at a manual station. For example, OCNL LTICCG which means occasional lightning of less than 1 flash per minute in cloud and cloud to ground.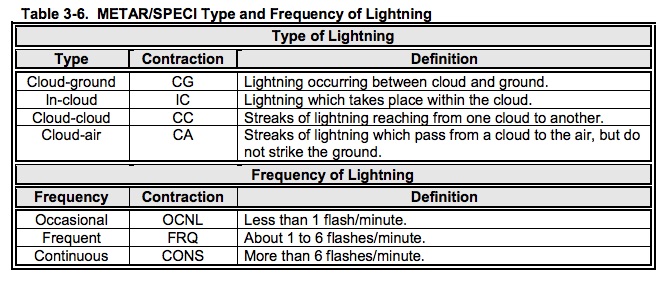 At automated stations, you won't see such detail. You will only see LTG DSNT in the remark section.

I'm not sure how you would know if you have an automated or manual station.
11. Beginning and End of Precipitation: This one requires you know your basic types of precip like: RA, SN, and SH. You also need to know that "B" stands for "begin" and "E" is for "end." Also, the time is always minutes after the hour. So a "35" means 35 minutes past the hour.
So here are some examples you will see: RAB05E30SNB20E55 or SHRAB05E30SHSNB20E55 or RAESNB42. Are you confused yet?
Let's take the first one and then you can figure out the other two.
RAB05E30SNB20E55: Rain began at 5 after and ended at 30 after. Then it started snowing at 20 after and it ended at 55 after.
12. Beginning and end of Thunderstorms: You should be able to get this one after figuring out the one above. Here is an example: TSB0159E30 which means the thunderstorms began at 0159 and ended at 0230.
Are you starting to notice a pattern with these METARs? Once you know how they work, it is much easier to read them.
13. Thunderstorm location and movement:
Here is an example: TS SE MOV NE.  Translated it means thunderstorms are moving from Southeast of the reporting station to Northeast.
14. Hail size: The acronym for hail is "GR."
Hail size is reported in 1/4 inch increments. So you would see "GR 1/2″ in the remarks.
15. Virga: these are clouds with precipitation that don't reach the ground. You will see "VIRGA" and a direction from the station. Example: VIRGA SE. 
16. Obscurations: 
Sometimes it's not just precipitation causing low ceilings, it can be dust, sand or smoke. In that case you will see the code for the obscuration followed by the ceiling height as a result of the obscuration. For example, a FU BKN002 means smoke is causing a broken ceiling of 200 feet.
17. Variable Sky Condition:
If you haven't figured it out yet, the remarks section loves to talk about variable conditions. Variable sky conditions are no exception. You will see normal cloud reporting with a "V" for variable thrown in the mix. So BKN014 V OVC means there is a 1400 foot layer that varies between broken and overcast.
18. Significant Cloud Types:
There are a multitude of different types of clouds you will see such as: Cumulonimbus (CB) or Cumulonimbus Mammatus (CBMAM), Towering Cumulus (TCU), Altocumulus Castellanus (ACC) and Standing Lenticular (SL) which are further broken down into three subtypes: Cirrocumulus (CCSL), altocumulus (ACSL), stratocumulus (SCSL).
These clouds will always be followed by a cardinal direction they are moving from and to. So a TCU W means a Towering Cumulus is West of the station. Or a CB W MOV E a Cumulonimbus is West of the station moving East.
Are you confused yet? In The Ultimate Guide to Decoding NOTAMs and METARs (for sale soon) I provide pictures, but for this blog post, you will have to google each of these clouds yourself.
19. Ceiling Height at a Second Location
When the ceiling height at a second location on the reporting station has a lower value, you will find it in the remark section. You should key in on this discrepancy. The lower ceiling could be on the approach end of the runway you want to use.
Check out KEUG. The main weather report has a broken ceiling of 4200 feet. 

But the Remarks section has a secondary ceiling of 3500 feet:

20. Pressure Rising or Falling Rapidly
If you see this in the remarks section you need to watch out. Don't be fooled by the current METAR. With a rapid pressure change, you will start to see weather move in or out with winds.
It looks like this: PRESRR or PRESFR
21. Sea Level Pressure
I see this one all the time. I don't pay too much attention to it because the number that follows is reported in hectopascals. Unless you have an altimeter that lets you dial in hectopascals, this number won't do you much good. Take a look at this one:

It means the Sea Level Pressure is 1008.8 hectopascals. If the value is below 1000 then you will see it written like this: SLP952 or 995.2 hectopascals. If there is no SLP available you will see SLPNO.
22. Aircraft Mishap: ACFT MSHP this one is self-explanatory
23. No SPECI reports: NOSPECI
When the weather is bad or changing rapidly and you see this, be careful. This means the METAR is only reported every hour. You won't get any Special reports within that hour to alert you to sudden changes in ceilings or precipitation.
24. Snow Increasing Rapidly
If the snow increases more than 1 inch in the last hour you will see this in the Remarks section. "SNINCR" will be followed by a couple of numbers which indicate the amount of snow in the last hour and how much snow is on the ground. So a SNINCR 3/15 means there was 3 inches of snow in the last hour and there are 15 inches of snow on the ground.
The best reference to find out more about the hard part is the Aviation Weather Services Advisory Circular 00-45G
25. Other Significant Information
Stations will choose to add information as needed in plain language.
That wraps up the information most pertinent to you as a pilot. The next section covers information primarily used by the National Weather Service.
Take a look at what some of this information means, but don't feel like you need to memorize these.
Additive and Automated Maintenance Data: not really for pilots
Now on to the part of the METAR that doesn't make sense. Look at all of these! What does it all mean? Keep reading and I will tell you. 






27. Precipitation: 
The "P" stands for precipitation and the numbers that follow indicate the amount. So a 0002 means 00.02 inches has fallen in the past hour. Good luck trying to figure out if that is a lot or not. It's best not to pay attention to this one. If you see a P0000 then nothing has registered. It's not raining. Great.
You will also see more numeric codes. There are so many I don't want to get into them. I am currently writing an "Ultimate Guide to Decoding NOTAMs, METARs and TAFs." I will cover precipitation codes more in depth in the guide. Sign up for my email newsletter to find out when the guide is ready for purchase. (it won't be more than $5, I promise).
28. Hourly Temperature and Dew point (Celsius)
This one always gets people. Feel free to never pay attention to this number. It is already reported in the main body of the METAR.
But for those of you who want to know what it means, here is an example and a breakdown of each part:
T00261015 translates to The temp is 2.6 degrees and the dew point is negative 1.5 degrees.

Here is another example. Remember the "1" means a negative number. The temperature is -6.7 degrees and the dew point is a -10.0 degrees.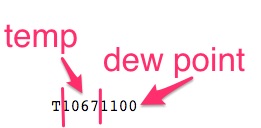 29. Sensor Status Indicators
Check out this excerpt from the Aviation Weather Services AC 0045g. Interesting stuff, but not the end of the world if you don't know them.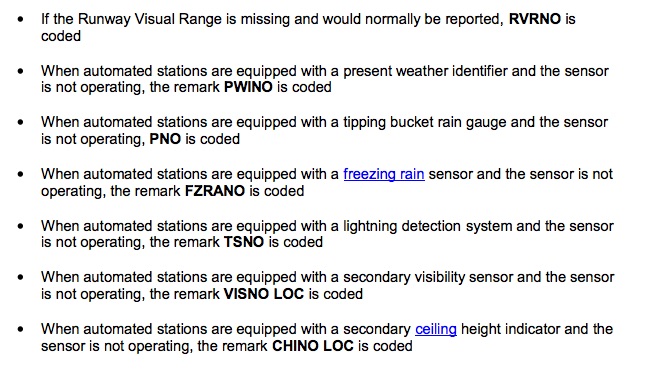 30. Maintenance Indicators.
Have you ever wondered what the $ sign is at the end of the METAR? It means someone needs to do some maintenance on the automated station. Here is an example:

Whew!!! That's it! That covers all of the Remarks section.
Additional Reading:
Aviation Weather Services Advisory Circular 00-45g. It's a gold mine of weather chart information.
A Complete Guide to Understanding METARs: Part 1
How to Decode Terminal Aerodrome Forecasts (TAFs)
A Compelte Guide to Decoding NOTAMs
That's it! I hope this article helped.
You can also get a PDF on how to decode NOTAMs by entering your email address below.
Get Your Ultimate Guide!
Download your FREE guide. Plus get emails full of aviation tips and resources!!