General aviation training is expensive. Professional aviation training is even worse.
Professional flight school costs about $70,000 to $90,000 to go from nothing to an instrument certified instructor. Because flight school is so expensive and the training timeline is so compressed, it's challenging to pay for flight training through traditional means.
So, what's the best way to pay for your aviation training?
Well, it depends on your situation. Most students will need to use a combination of tactics to pay for training.
This article will explore these different ways of paying for flight school.
If you have no intention of getting paid to fly, read this article: How to Pay For General Aviation Training. But if you want to make it a career, keep reading.
Here are the topics this article will address:
Should I take out a loan to pay for flight school?
How to responsibly get help from a relative to pay for flight training
Should I join the military to pay for pilot training?
How to get an aviation scholarship to pay for flight training
How to save money for flight school.
In addition, I'll address these related topics:
The importance of an emergency fund (even just $1,000)
Why you shouldn't pursue training if you have credit card debt
Finally, the end of this article contains a list of financial resources.
Regardless of which avenue you go down, there are some dos and don'ts to keep yourself out of financial trouble. Paying for training could expose you to serious financial risk.
No matter which avenue you choose to pay for flight school, flight students need to become financially literate during the process. The resources at the end of the article will support your finance journey.
Let's start with one of the most popular but riskiest options for paying for flight school.
Should I take out a student loan to pay for flight school?
There is no simple answer to this question, but the short answer is: only once you've demonstrated an aptitude and desire to make it a career and only take the least amount possible.
Ideally, you should never take out student loans. They can cripple a person's finances for decades.
The other problem with loans is it stifles creative thinking around how to pay for aviation training.
Unfortunately, a loan may be unavoidable. Flight training has a compressed timeline, and it's expensive.
The student loan for flight training offers an advantage. You can finish your training quickly, which will save you money. If it takes a loan to get your training done as soon as possible, it's something to consider.
But that doesn't mean students should finance their entire aviation training!
There are smart ways and stupid ways to take out a loan. Before you pull the trigger on a student loan, do your homework.
First, check out this article by Student Loan guru Anothony O'Neil: "How Do Student Loans Work?" to learn the basics.
Second, there are limits to the amount you should borrow.
Before you think student loans will put you on the fast track to getting an airline career, consider this: student loan debt shouldn't exceed more than 10% of your monthly income when you graduate.
An alternate rule of thumb is to never take out more than your first year's salary in loans.
This is a serious problem for pilots.
First-year instructors make around $20,000 a year. If you follow the 10% rule, you can only spend $166 a month on loans ($20,000/12=$1,666).
I used the student loan calculator to run some scenarios. At $166 a month, the maximum you should take out was $16,000 at a 4.5% interest rate for a 10-year loan. Unfortunately, this will only pay for the private rating, and maybe some of the instrument rating.
You could instead go with the suggestion of taking out your first year's salary, but that's still only going to get you to $20,000.
Where will you get the other $50,000?
Let's look at some other types of loans. These aren't much better, though, because they require attendance at a four-year institution. Professional pilots don't need a four-year degree.
Can I get Pell Grants and federal financial aid for aviation training?
Yes, and no. Unfortunately, most pell grants and federal loans are only for four year accredited aviation institutions.
A Part 141 school (i.e., a big flight school like ATP Flight School), is NOT an accredited aviation institution. Therefore, most federal financial aid and pell grants are unusable at Part 141 and Part 61 schools.
Even if you could get a Pell Grant, they max out at about $5,000 a year. You'll finish your training in less than a year if you put your mind to it, so why would you go to a four-year institution so that you can qualify for a $5,000 pell grant? 
Note: click here for a list of accredited aviation colleges.
Herein lies the problem!
Pilots don't need a four-year degree right away, but to qualify for most financial aid, they have to enroll in a four-year aviation institution.
Going to a four-year aviation institution so you can qualify for student loans is like buying a Tesla on sale for 40% off. You just saved 40% on the car, but you could have purchased a used Toyota Corolla for $3,500 and arrived at the same location with no debt!
The problem with accredited aviation colleges is you spend way too much on the actual college degree. You will accrue $70,000 for your flight training, and you still have to pay over $30,000 for room, board, and tuition for non-aviation classes.
You now qualify for federal loans and pell grants, but you just added $30,000 onto your education which you don't need (right away) or could have gotten for free (i.e., community college or state schools)
Pilots don't need a bachelor's degree initially. It's an advantage eventually, but I argue you shouldn't start your degree until you are at least 24 years old.
What!?? Wait until I'm 24, but everyone goes when they are 18!
Here's why: federal financing uses the student's parent's income for financial aid until the person is 24.
After you are 24 years old, you can use your income. Since a flight instructor's salary is close to the poverty level, you'll qualify for a lot of financial aid.
But wait! FedEx and UPS require four-year degrees! Yes, it's true, but do you honestly think you will get hired by FedEx or UPS when you're 21? Haha!!
You'll be lucky to get hired by the time you're 28 to a major airline. So, delay your degree. You won't need it until you're almost 30!
How to get a flight school loan:
Okay, so you've decided to take on debt to help pay for training. How do you do it?
Depending on the loan, you may need a co-signer. This is usually a parent or guardian. If you don't use a co-signer, you will need excellent credit. Young people can struggle to build up enough credit to qualify.
If you are using "normal" financial aid at an accredited institution, you will need to fill out a FAFSA application. Your parent(s) will need to provide the past two years of their tax returns.
The FAFSA will look at your parent's/guardian's income until you turn 24 years old.
What happens to my loans if I don't finish flight school?
You have to pay your loans no matter what.
No one cares if you finish school or not. You signed on the dotted line and agreed to pay.
There are hundreds of people who fail their FAA check rides every year. The failure goes on the record permanently. You will have to explain your failure at every aviation job interview.
Therefore, if you take out a loan, use it for the tail end of your training when it is clear you have an aptitude and desire to fly.
According to a CFI friend, most students fail halfway through their instrument ticket and give up. So, find a way to pay for the private and instrument ticket without a loan.
Only use a loan on the tail end of your training.
Why you should only take out the bare minimums in student loans.
Here are some additional things you need to know about student loans before you rush to mortgage your future.
Some types of student loans are not forgivable upon your death. Your other assets will pay for them. Before you sign, understand what will happen should you die. Check out this article for What Happens to Student Loans When you Die.
It's tough to shed student loans during bankruptcy.
Bankruptcy is devastating. Remember, airlines all do background checks. Your credit score will pop up during a background check.
Defaulting on your student loans may cost you a job.
You must understand the industry you are joining. It is not recession-proof. It's a great idea to have another skill besides flying.
Even if you find a job right out of flight school at a regional, over a 40-year airline career, you will face at least four economic downturns. That's four chances of getting furloughed or getting downgraded from Captain back to First Officer (which can mean a $100K reduction of pay a year).
You need to have a plan before you take on a loan. Even though your friends are taking out college loans, it's different for flight school. The cost is so high, and the training is compressed, which makes the traditional model of student loan financing difficult.
Do not take a loan unless you've figured out if you can pay it off with a marginal job.
Are you capable of finding and getting a $15 to $20 an hour job in your area? Would that salary be enough to feed yourself and pay off a loan? A $15 an hour job at 40 hours a week will produce about $28,800 in pre-tax income. So you're again looking at a maximum per month payment of $240 a month. At a 4.53% Wells Fargo loan, that's a maximum loan amount of $23,000.
Student loan recommendations:
Only take out as much as you will make your first year of employment.
Have a backup plan to repay the loan if you can't get a pilot job after graduation.
Use the loan only once you know you have an aptitude and desire to finish flight school (i.e., after your instrument ticket)
Do your research and understand your obligations and timeline for paying back the loan.
Don't go to a four year accredited aviation college so that you can qualify for more student loans.
So, you've decided to take out a little bit in student loans, but how will you bridge the gap?
Let's look at another source.
How to responsibly take money from a relative to pay for flight training
Like with the student loans, only use a relative when you've committed, and you've demonstrated an aptitude for flying.
You could create lasting damage in your relationship if you get help from a benefactor and don't finish your training.
I flew with a Captain once who helped his son pay for training. The son still hasn't finished his training and never will. I could hear the disappointment in his voice. Their relationship suffered.
Make sure flight training is something you want to do before you take a substantial hand out.
Also, make sure you're capable of becoming a pilot. Don't get help from the Bank of Parents until you prove yourself.
With these two things in mind, there are smart ways and stupid ways to approach accepting a monetary gift.
Most students get their private license, but halfway through their instrument rating, they give up.
The instrument ticket is the make or break moment for student pilots. If you can make it through instruments, you'll most likely finish all of the training.
So, if this is the trend, plan for it. Consider this suggestion:
Have your benefactor pay for your Private License. Then, knowing the instrument ticket is the make or break moment, YOU pay for your instrument ticket. If you don't make it through instrument training or realize it's not for you, you can leave guilt-free.
The government allows people to give up to $15,000 a year as a gift tax-free. $15,000 is enough to pay for your private license. If your parents want to help you, have them pay for your private license. If things don't work out during advanced training, you still have your private license.
Don't limit yourself to just monetary help. Parents can help in other ways.
You can live at home while going to flight school. You can also trade work around the house for meals.
This will reduce your housing and food costs substantially. Housing and food are two of the "big three" expenses in everyone's lives. When people get a handle on housing, food and transportation, they accumulate wealth rapidly.
The disadvantage of living with your parents is it limits the flight school choices. It won't help much if a Part 141 school you want to attend is far away. Maybe your benefactor can help with housing and food costs while you pay for the actual training.
Please be responsible when accepting help. You can do it without burning bridges.
Note: Even if you have a 529 college savings plan you should still make sure you have an aptitude and desire to fly before you use the money.
Not everyone has relatives who can help them. In that case, the next options might be the best way to pay for training:
Should I join the military to pay for aviation training?
Yes! Join the military!
This is an excellent option for several reasons. Don't discount this out of hand, keep reading.
I'll discuss four different ways to use the military and three of them aren't what you think.
Here are four ways to use the military to pay for aviation training.
Become a military pilot in the active duty (full-time)
Become a military pilot in the National Guard or a Reserve unit in your home state (part-time)
Join the active duty as a non-pilot and pursue flying on the side using tuition assistance
Join the National Guard/Reserves as a non-pilot and pursue flying on the side using tuition assistance
Let's address each of these separately:
Should you become an active duty military pilot?
Here are three reasons you should become an active duty military pilot:
They will pay for your training,
You will make a very healthy salary during your 20s with benefits
You will accrue a ton of flight time (unless you are a fighter pilot or helicopter pilot).
While your peers are trying to scrape together a living as a flight instructor, you'll make double a regional pilot's salary. You'll experience flying your airline peers will never see. You'll also accrue the coveted 500 hours of PIC airplane time. (only if you fly for the Air Force or airplanes in the Coast Guard or Navy).
I know as a young person it's hard to imagine 30 or 40 years of a career. But, take a second and picture a 40-year airline career flying from one Class B airport to the other. Over and over.
Sure, it seems bright and shiny right now, but 40 years from now, you'll be bored.
The military allows you to do things you can never do as a civilian pilot. You can do them for eight years and then move into the airline or corporate job when you're done with your commitment.
Not only that, but it will also develop you as a person and as an aviator. Military pilots get to see what "right" looks like from day one of flight school. They are held to a very high standard. You have to develop your decision-making skills and people skills. You'll be a better person and a better pilot in the long run.
Here are some things to consider:
You must be in excellent physical shape (join a Crossfit type gym, eat low-carb and you'll do fantastic)
You will need a four-year degree before you go to flight school (except as an Army warrant officer). But, you can get a two or four year ROTC scholarship or apply to one of the Service Academies.
Your class rank in ROTC or the Service Academies will determine if you get an aviation assignment. You might not get to become an aviator, you might end up as a logistics officer. This isn't the end of the world, you just have to fly during your free time.
You may not get to fly the aircraft you want (they assign aircraft based on need and class rank)
Despite these flaws, it's an excellent avenue. But, there are three other less traditional ways to use the military to pay for aviation.
Should I become a pilot in the National Guard/Reserves
An excellent alternative to the active duty is the National Guard in your state (or whatever state you're willing to move to).
The Reserve units that act similarly in terms of time commitment and recruiting. For the purposes of this article, I will just refer to it as "the Guard" since they are virtually identical.
The National Guard will pay aviation training and you can still pursue a full-time civilian flying job. Guard pilots owe the Guard one weekend a month, two weeks a year and about two to four additional flying days a month.
There are many airline pilots who are still active members of the National Guard. If you don't want to commit yourself to full-time military life, you can go part-time in the Guard.
You'll enjoy the benefits of having flight school paid for while still having a full-time civilian job.
Because National Guard members have full-time jobs in the civilian workforce, the Guard is an excellent way to build your network. All the major airlines rely on internal pilot recommendations.
Your Guard colleagues will help you get hired. My contacts in the Guard helped me get my job at Alaska Airlines.
Here are some things to consider
You will have to be in the Guard for at least a year before you'll get an interview for flight school. If you aren't chosen for flight school you'll have to pursue flying on your own, but it's not the end of the world! You still get tuition assistance and have a part-time income.
You will go to flight school for the aircraft opening they have. You will know right away which aircraft you will fly, unlike your active duty peers who don't find out until the end of flight school.

So, if you want to fly big cargo planes, but your state only has fighter jets, you need to join the National Guard for the state with the big cargo planes. (i.e. Oregon only has F-15s, but Washington has C-17s)

There are some age limitations for every branch of service. You have to start flight school by the time you are 30-ish.

But remember, the maximum age is when you start flight school. Back that number off by a few years because it will take a while to get through basic military training, get interviewed, and get orders for flight school.

You need to be in excellent shape (join a Crossfit-type gym, and take control of your nutrition)
Should you join the active duty and pursue aviation on the side?
Unlike the previous two options, many people dicount this choice because it doesn't involve becoming a pilot.
However, it's still an excellent way to pay for flight school. It solves several problems:
You'll save a lot of money in three years (if you're smart with your money).
You'll acquire a skill you can fall back on during an inevitable furlough.
You can get a fairly high paying job when you leave the military (which will help you pay for training while you work)
You can leave the miiltary with most of your degree completed for free (if you spend your time wisely).
You may leave with GI Bill benefits you can use for aviation training.
The age limitation jumps to the mid 30s making this an option for older people.
If you pursue this option, you need to be extremely selective about which job you choose. I highly recommend you become an aircraft mechanic, a paramedic, or IT specialist.
Don't choose the infantry or field artillery or some job without an exact civilian equivalent. Do NOT let the recruiter sell you on a random job like sheet metal specialist or radio technician.
It's vital you use your time in the military to get trained on a skill you can fall back on during a recession. When you choose your military job, think: "will this pay me well in the civilian world? Would I want to do this if I got furloughed?"
While you are on active duty you can pursue a four-year degree online. A lot of colleges credit military training. If you do it right, you can leave the military after three years with a four-year degree, money saved up, a fairly high paying job and some type of GI Bill.
You can also transition from active duty to the National Guard and continue to earn a little bit of money on the side and receive tuition assistance from the Guard.
Remember employers love to hire military veterans. They make very reliable employees.
For example, Intel favors veterans for their factory technicians. After three-year enlistment in the military, you could make $55,000 a year with benefits. That's more than enough money to pay for your training and you have a skill to fall back on during a furlough.
Should you join the National Guard and use tuition assistance?
Just like with the active-duty option, you can join your state's National Guard as a regular enlisted member.
Remember to be selective on which job you choose. It must translate to the civilian world! I can't emphasize this enough.
The National Guard will give you tuition assistance. If there is a local aviation community college in your state, you can use tuition assistance to pay for it.
For example, Oregon just changed it's rule that any Guard member will have their in-state or community college paid for 100%!! You can go to the University of Oregon or Oregon State University for free. That's insane. You can't pass that up.
The advantage of this route, is you don't have to get picked up as a flight school candidate in the Guard. It takes time to become a Guard pilot. When you use the normal tuition assistance in some specialty other than military pilot, you can start your flight school training right away at a civilian institution.
For example, in Oregon, you can join as a Guard member and then attend Hillsboro aviation as a student full time.
You will have to pay back the Guard with a service obligation if you use tuition assistance (usually it's a one-year obligation for one year of school).
This is always congruent with your normal service obligation. So if you sign up for a three-year enlistment, and you start three years of school right away, you won't owe anything when your obligation is over. But if you wait two years into your enlistment to start school and go to school for several years, you will have to stay past your three-year contract.
If you are interested in becoming a military pilot. Please email me especially if you are looking to join the Guard. I can point you in the right direction. My email is sarah@thinkaviation.net
What if you don't want to join the military or you are too old? Well, the next option is the most tried and true way to pay for training.
How to get an aviation scholarship
Scholarships are often overlooked because of the work involved and the low dollar amounts, but are an excellent way to reduce training costs.
It's unlikely they'll cover the entire cost of training, but every little bit helps.
Here is an excellent resource that gives a comprehensive list of all aviation scholarships.
Unfortunately, a lot of scholarships require membership in an organization (like the WAI, 99s, AOPA, EAA etc). They also require you to live in a certain location or be of a certain minority group.
Therefore, take some time and sort through all of the scholarships to find the appropriate ones.
Once you do, start with the small monetary scholarships. Often times they get overlooked and never used. They can really add up, though.
Many of the essay questions are similar, so once you write one essay, you should be able to recycle the content for other scholarships. Always have someone (or two or three people) edit the essay.
It's best to treat the application process like a job because it is. You could potentially spend 3 hours on an application and make $500. That's $166 an hour!
For every scholarship dollar you earn, that's one less dollar you have to make or borrow. Put the time in and you'll get results.
How to save money for pilot training.
But how do you accumulate so much money? Well, it takes time, financial education and a strong mindset.
Savings sounds simple, but it's incredibly difficult in our culture.
Your money story started when you were a kid and is heavily influenced by how your parents talked about and treated money. Not only that, but our education system also doesn't teach finance.
Additionally, a person's socio-economic status creates obstacles like systemic racism or family expectations. Poor people aren't exposed to discussions about stock market investing, banking, and retirement savings. On the flip side, middle/upper-class people have huge societal expectations that can seriously impede their ability to save.
Middle-class families expect their kids to go to college, buy a car, buy a house, have a few kids, and have nice clothes. All of these expectations focus on spending, not saving.
Poor families on the other hand may have a mistrust of banking because of malicious lenders, fraud schemes, and flat out racist lending. For every dollar in accumulated wealth of a white family, a black family has an equivalent of one penny.
Everyone has different societal pressures. None of these hurdles are impossible, I just want to acknowledge that not everyone reading this article is starting at the same place.
This means, no matter what your background, you have to break free of what everyone around you is doing.
Doing what those are doing isn't going to pay for aviation training!
You're on your own which means YOU have to educate yourself if you want to pay for aviation training responsibly.
Saving for your aviation training will require a mindset shift and some serious personal finance education. I have provided a list of some incredibly helpful books and podcasts at the end of this article.
I am not really going to do a deep dive into the how-to because I want you to read these important books and listen to the podcasts.
But, I will touch on the most effective ways to reach your goal:
Ultimately, you must "grow the gap." You need to figure out how to increase your income and decrease your spending. The difference between the two will get you to your goal.
How to increase your income:
Start a side hustle like become a notary public, drive for Uber or Postmates
Deliberately choose a college degree that pays a lot of money like a software engineer. Ditch the sociology degree, it's not worth the money.
Go into the trades with a union right out of high school, skip college initially
Complete a short intense program designed to teach people a specific skill and come out on the other side with a job. For example, user designer.
Ask for a raise (if you can demonstrate you earned it)
Switch jobs and negotiate a higher salary
How to cut spending
With cutting spending, the experts agree there are three major areas of expenses which, if you are able to reduce, will make the most impact.
The "big 3" are housing, transportation, and food.
Cutting Netflix isn't going to get you to your aviation career. You've gotta go big!
Getting rid of a car payment of $300 a month is like cutting Netflix 20 times. Getting a roommate and saving $500 on rent equates to 33 Netflix subscriptions. Cutting your takeout bill from $400 to $50 is Netflix times 23.
Do you see where I'm going? Why are you bothering cutting Netflix when you are driving around a $20,000 car? Do you want to become a pilot or not?
Sell the car! Go to flight school!
Here are some ways to decrease your spending:
Get roommates or do advanced "house hacking" techniques
Sell your expensive car and buy a cheap but very reliable car
Sell your car completely and bike everywhere
Cut your grocery bill ruthlessly (there are tons of websites to help you do this)
Go out to eat only once a month somewhere special. Yeah, you'll have to learn how to cook, but your waistline will appreciate it.
Once you've decided you're going to save aggressively for training. Here are some tools to help save and track money:
I personally use a budgeting app to help me save. I can't get enough of the app "You Need a Budget or YNAB".
This is an app for people who hate budgeting or have failed at it in the past.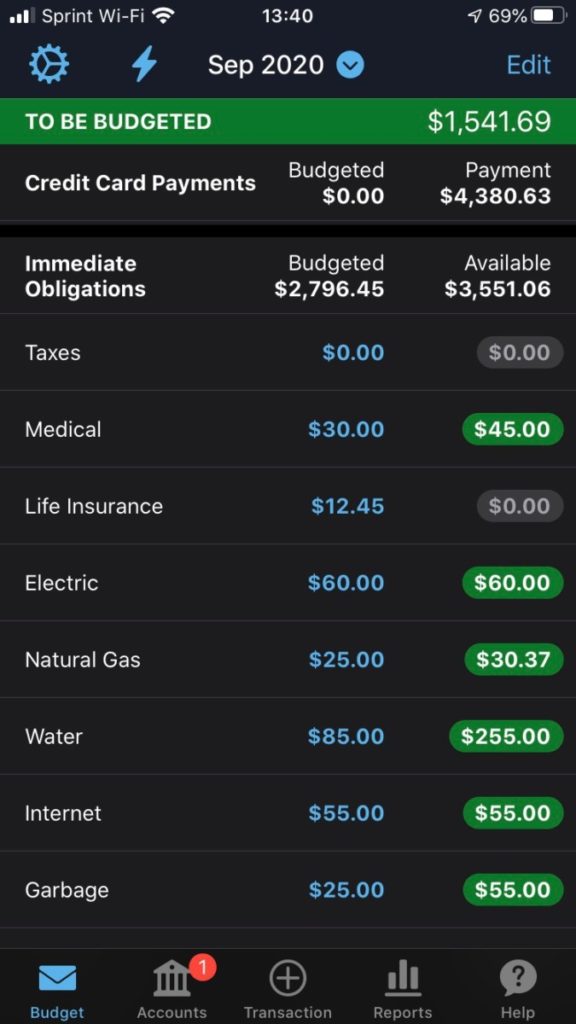 I can't say enough about this app. It works so well because it ONLY lets you budget money you have right now.
Plus, every dollar has a job.
It also lets you move money between different categories instantly. Overspend on going out? No problem! Move it from the "books" or "entertainment" category to cover it.
But the best part is you can immediately assign your excess cash into an "aviation training" category. If you don't want to use YNAB (it's not free, but worth every penny) then try Mint, Personal Captial, or just use a free Google spreadsheet.
In addition to using YNAB, I track all of my W-2 income, expenses, and taxes on a separate google sheet. Simple, easy, and free.
Another phenomenal personal finance app is Personal Capital. It does let you budget, but's its superpower lies in its net worth calculator, retirement planner, and seamless integration of all your accounts.
It also notifies users of late or overdraft fees on accounts that could save you hundreds of dollars. Please check it out and see if it's right for you.
Also, if you use this link, you'll get $20 if you link a qualified account, so check it out: Personal Capital
Disclaimer: I do get a kickback for suggesting Personal Capital and YNAB. It costs you nothing to use these links but if you do use the link, it helps me keep this website running. I only ever recommend products I use and love which is why you don't see me recommending Quicken and Mint (I have tried both).
So far in this article, I've covered a wide range of ways to pay for aviation training. However, I would be remiss if I didn't cover two additional personal finance topics.
Why you should have an emergency fund and no credit card debt prior to starting training.
Let's tackle the emergency fund first.
Hopefully, the COVID-19 pandemic has demonstrated the importance of having a 3-6 month emergency fund. Unemployment is taking months and months to hit people's bank accounts. As I write, some people are getting desperate.
I realize takes time to accumulate and may delay your training. But this is an essential part of everyone's financial life. Emergency funds give people security and confidence especially in the face of a furlough.
I realize 3-6 months can be an overwhelming hurdle for people.
If it's too much, then do as Dave Ramsey says and have at least $1000 in your savings account. This is the bare minimum.
Luckily emergency expenses aren't as high as actual expenses.
Before socking away money in a high-interest savings account it's essential you track where you're money is going.
If you have no idea where your true expenses you'll have no way of knowing how much to save.
In a real financial emergency, you'd cut out restaurants, cable, and the fifteen different entertainment subscriptions. The emergency fund is the bare minimum amount you need to function: insurance, utilities, rent, food, gas to look for work, etc.
You should also have a definition of "emergency." An emergency is not money for groceries because you blew $75 at a bar.
It's also a good idea to put this money in a different bank (I use CIT bank) from your normal everyday accounts. It is for an emergency and should be very deliberately accessed only when needed. Putting it in another bank makes it more difficult to access especially if you forget your login (which might be a good idea to purposely forget!).
The second issue you should address is credit card debt.
First, let me define it because some people don't understand what it is. Credit card debt is any balance not paid off in full every month. This is the balance that gets carried forward to the next montly statement. It's what you pay outrageous interest on.
If you spent $1000 a month and only sent the credit card company $700, then you have $300 in credit card debt. You will pay a criminal amount of interest on that $300.
Where people get confused is that it doesn't mean the overall balance goes to zero every month. Statements are only 30 days and by the time your bill hits your inbox, you've probably already spent more money. You'll always have some kind of balance.
Only use credit cards if you can pay off exactly what you spent during that billing statement. If you spent $1000 from August 1st to August 30th, then on September's bill, you should send them a $1000 check.
Credit card debt is an emergency and should be treated as such.
Mr. Money Mustache has an excellent article on the topic. He makes the point if you have any type of debt, you should do everything in your power to address the issue immediately.
News Flash: Your Debt is an Emergency!!
In my humble opinion, you have NO business pursuing any type of aviation training if you carry credit card debt. All the money spent on interest could go towards your training. Tackle credit card debt first!
Yes, this may delay your training substantially. I understand. But it's an emergency.
If you are carrying credit card balances, no judgment. We don't teach our children how to handle money. Teach yourself.
Start with these books and then check out the other resources at the end of this article:
Also, I shouldn't have to say this, but DO NOT USE A CREDIT CARD TO PAY FOR TRAINING! I'd rather you take out an $80,000 loan at 5% than use a credit card at 13-20%.
I've covered a massive amount of information in this article. But really I've just scratched the surface. It's up to you to do the hard work. It's up to you to change your money mindset. It's up to you to save!
Before you get into the additional reading and financial resources section, I want to leave you with a few bullet points:
Make sure you have the desire and ability to fly before you go into debt or take a hand out.
Only take out the bare minimum amount in loans.
You are capable of saving a massive amount of money.
Unless you can get it for free, delay college until you're 24.
Choose another career you can fall back on during an inevitable furlough. Ideally, this career should pay very well. Use the money you save from that job to pay for training.
You may have to delay training until you are out of debt.
You don't have to be a pilot in the military to take advantage of serving.
Good luck. Please leave a comment. We can all benefit from your suggestions and experiences!
Additional Reading
Flight School Loans (this is a .org website on student loans and scholarships, it's a comprehensive resource)
Financing the Pilot Dream by Plane and Pilot Magazine (Disclaimer: I don't agree with everything in this article (like using credit cards or getting a loan for 9%, but I want you to have as much information as possible)
Pilot Finance Inc (Disclaimer: their loan rates are criminal at 12-18%, but again, they are an option and you should know they exist)
AOPA Flight Training Financing (Disclaimer: ugh! high rates, but still an option)
Financial Resources
Best Financial Podcasts
I am a subscriber to the following podcasts. I've listened to just about every episode.
Best Financial Books
If only I'd had these books in my early 20s!
Best Financial Mobile Apps
Best Financial Websites
These websites are geared towards changing your habits and ideas around money. Yes, you can save $70,000. Check them out:
Affiliate Disclaimer: many of these links above are affiliate links. These links help me run this website. I only recommend products/websites/books/apps I use and love.
Do you want weekly tips and resources?
Subscribe to keep learning.