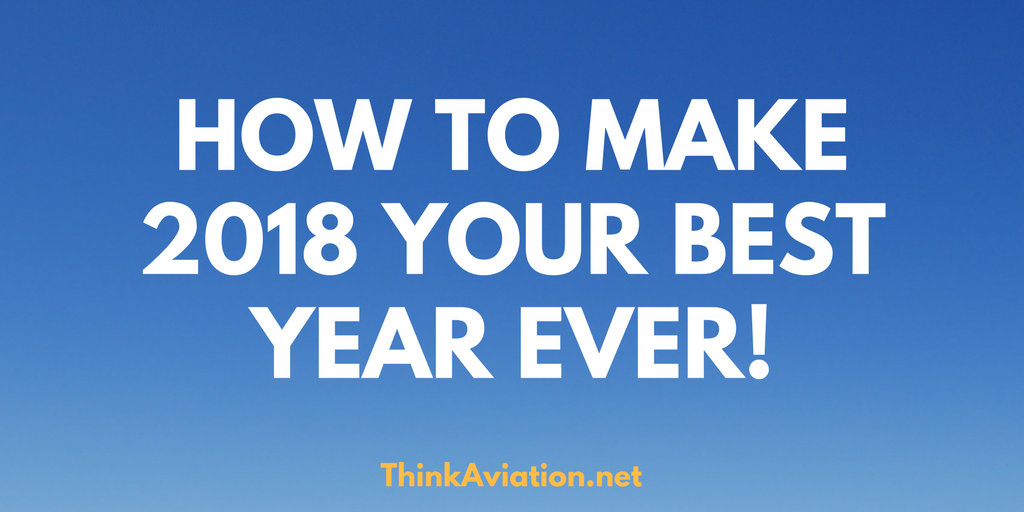 This week I want to do something a bit different. I don't want to talk aviation.
I want to talk life.
I firmly believe to be a great aviator you have to be good in all areas of your life. That is why, on occasion, I share articles about nutrition and personal development.
So, today, I want to give you some resources to help you figure out how to make 2018 your best year ever. It is not too late to set goals.
I love starting my "next year" goals either before or after January 1st. I have never found the 1st a particularly good day to start anything. It is a day off. Nothing gets done!
Start your goals on the 18th of January for all I care, just start!
Here are some excellent goal setting links and books:
It will cost you an email address, but it's worth it. (they haven't updated to 2018 yet)
Live Your Legend 2017 Goal Setting Workbook
The second is an article by Chris Guillebeau (no email required)
How to Conduct Your Own Annual Review: The Art of Non-Conformity
Micheal Hyatt, a thought leader and inspirational writer, has an excellent course on goal setting:
Micheal Hyatt's Best Year Ever
Here are three books on productivity I can't live without:
Here is the ONE thing that has changed my life this past year:
I can't say enough about the Productivity Planner! I saw amazing results in just a week of using it. I just bought my second copy already. For all you type A personalities out there, you will love it!
What are your favorite goal planning resources? Share below!
The beginning of the year is so full of hope and excitement. Use that energy to set your goals and keep going.
Don't flail around. It's your life. Make a plan.